Status and Role of banks in India in 2047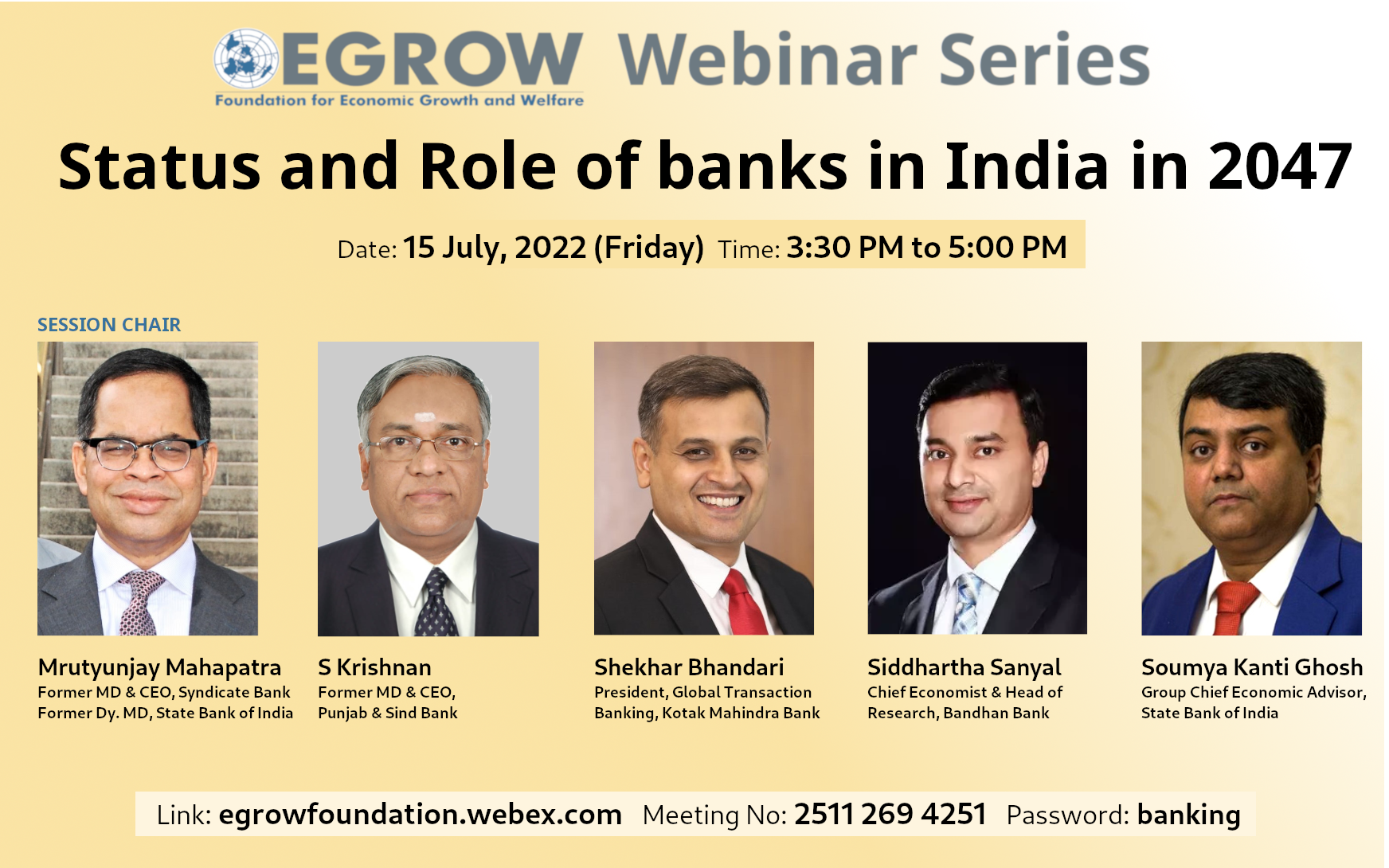 Meeting No: 2511 269 4251
Password: banking
---
Abstract
Post 1969 India witnessed nationalization of a number of banks. This was done to attain a number of objectives viz loans to priority sector i.e provide loans to agriculture and other important primary sector, small enterprises as well as large industries. This in turn stimulated the growth of the economy as well as the banking system as the coordination between the banks improved. In a span of last 50 years the banking system has strengthened but certain banks has been plagued by NPAs and huge amount of frauds. However, currently in order to tackle the problems there has been mergers of certain banks to minimize losses and increase efficiencies e.g merger of SBI and its associate banks, merger of Punjab National Bank, Oriental Bank of Commerce and United bank of India. Further, the government has planned to respond to the inefficiency of banks through through privatization too and therefore it is witnessed that some banks viz Indian Overseas Bank and Central Bank of India will soon be privatized. The discussion will involve the history and the current effect of Indian banking on the Indian economy. It will also critically examine the role and status of banking and its contribution to the Indian economy in the future in 2047 i.e after a span of 25 years.
About the Speakers
Mrutyunjay Mahapatra
Mrutyunjay Mahapatra is a well-known figure in Indian Banking and Indian Financial Technology sector. He advises and consults a number of Indian and global Banks, Corporates and fin-tech companies.
He started his professional career in SBI in 1982 and held senior and CXO level assignments in India, UK and USA. He has set up many new businesses like Leasing, Private Equity and Insurance for SBI.
He was the Deputy Managing director in SBI, leading global strategy, Marketing, New Businesses, digital, analytics and IT initiatives. As CIO and CDO of SBI, he established the innovation, data analytics, enterprise architecture verticals which was instrumental in creating many path breaking products like YONO, Loan Life Management System, SBI Chatbot etc.
From 2018 to 2020, he headed Syndicate Bank as its CEO, and led the transformation, digital repositioning and upgradation of one of the India's oldest and largest banks with over 4000 branches and 40000 staff.
Currently he is on the boards of RBIH, NABARD, Quantum MF etc and is also a visiting professor of Management at Manipal University.
A writer in leading newspapers and a known public speaker, he is considered a thought leader in the Indian BFSI sector. He has won several awards and accolades and has served in various RBI and Government Committee besides being member of different corporate boards. He is an avid blogger and is active in the lecturing circuit. He produces videos on different transformative subjects mostly for his own You tube channel.
S Krishnan
S Krishnan is a post-graduate in commerce and a qualified Cost Accountant (ICMA). S Krishnan is also a Certified Associate of Indian Institute of Bankers (CAIIB). He joined the services of Indian Bank in January 1983. The banker with over thirty years of banking experience has specialization in credit, more specifically corporate credit. Previously, he had served as the Executive Director of Syndicate Bank from November 2017 to March 2020 and executive director of Canara Bank from April 2020 to September 2020. Thereafter, he served as Managing Director and CEO of Punjab & Sind Bank from September 2020 to May 2022.
Shekhar Bhandari
Shekhar Bhandari is President of Global Transaction Banking at Kotak Mahindra Bank. He is responsible for Technology, Digital, P&L on Trade, Foreign Exchange, Investment and Supply Chain Finance, International Trade Finance, Domestic and cross border payments culminating into liquidity and working capital solutions for the entire bank.
He started his career with Kotak Mahindra Group in 1996. In over 25 years, Shekhar has held diverse positions of increasing responsibility across the group. Shekhar has a demonstrated record of creating impact by building new revenue streams and advancing growth in every business. He is instrumental in making Kotak synonymous with innovative and customized solutions.
Shekhar is passionate about technology, and endeavors to make Banking "Simple and Fast". Under his stewardship, the bank has strengthened capabilities in Blockchain, Artificial Intelligence (Al), Internet of Things (loT), Digital Signatures, Open banking, machine learning, and data analytics. In January 2021, he has been awarded as the CA Business Leader by ICAL. He has also been felicitated as "Transaction Banker of the Year in Asia pacific" by The Asian Banker in May 2019.
Shekhar is a Chartered Accountant by education. He ranked 25th across India in the year of his graduation. He is an Associate Member of the Institute of Chartered Accountants of India, an Associate Member of the Institute of Company Secretaries of India and a Graduate Member of the Institute of Cost and Works Accountants of India. Shekhar is also Member of precious metals oversight committee governed under Financial Conduct Authority. He is a regular speaker at various industry forums globally.
Siddhartha Sanyal
Mr. Siddhartha Sanyal leads Bandhan Bank's research efforts covering areas such as macroeconomic trends, financial inclusion, public policy and financial markets and is responsible for the Bank's business strategy. He comes with over 21 years of work experience including with the RBI as an Economist, Edelweiss Capital as Senior Economist and Barclays Bank as Director & Chief India Economist. He has been a ranked India economist in multiple occasions as per reputed international surveys. Sanyal joined Bandhan Bank from Barclays Bank Plc where he was the director and chief India economist based in Mumbai since 2010, a statement issued by the bank said. Before Barclays, he was with the Reserve Bank of India and Edelweiss Capital.
Soumya Kanti Ghosh
Soumya Kanti Ghosh is currently Group Chief Economic Advisor, State Bank of India. Previously, he has worked at the Tata AIA, American Express and ICRA among others. Dr. Ghosh has been a co-author in a pioneering work to capture payroll data in India for the first time, both formal and informal, and designing the PMKISAN scheme for farmers and the ECLG scheme for MSME borrowers that have been very successful during the times of pandemic. Dr Ghosh also had a role in designing the Credit Health Guarantee scheme. Following his report, EPFO and ESIC has started to give out monthly payroll data. Dr. Ghosh is a member of the Working Group that has been set up by Government of India for the revision of Wholesale Price Index. He serves as a Chairman of the Indian Banks' Association's Economist Group. He is also a member of SEBI Advisory Committee on Research, Insolvency Board Committee on Research, Economic Advisory Council, CII and Editorial Advisory Board of Indian Institute of Banking and Finance. Dr Ghosh is also a member of Governing Board at IICA. For 4 successive years ending 2021, Dr. Ghosh has been ranked as one of the Best Individuals in Research in India by the Asset magazine. Dr Ghosh has completed his doctoral thesis from JNU.
---
Certificate of Participants