Strategic Implications of US withdrawal from Afghanistan and its Impact on India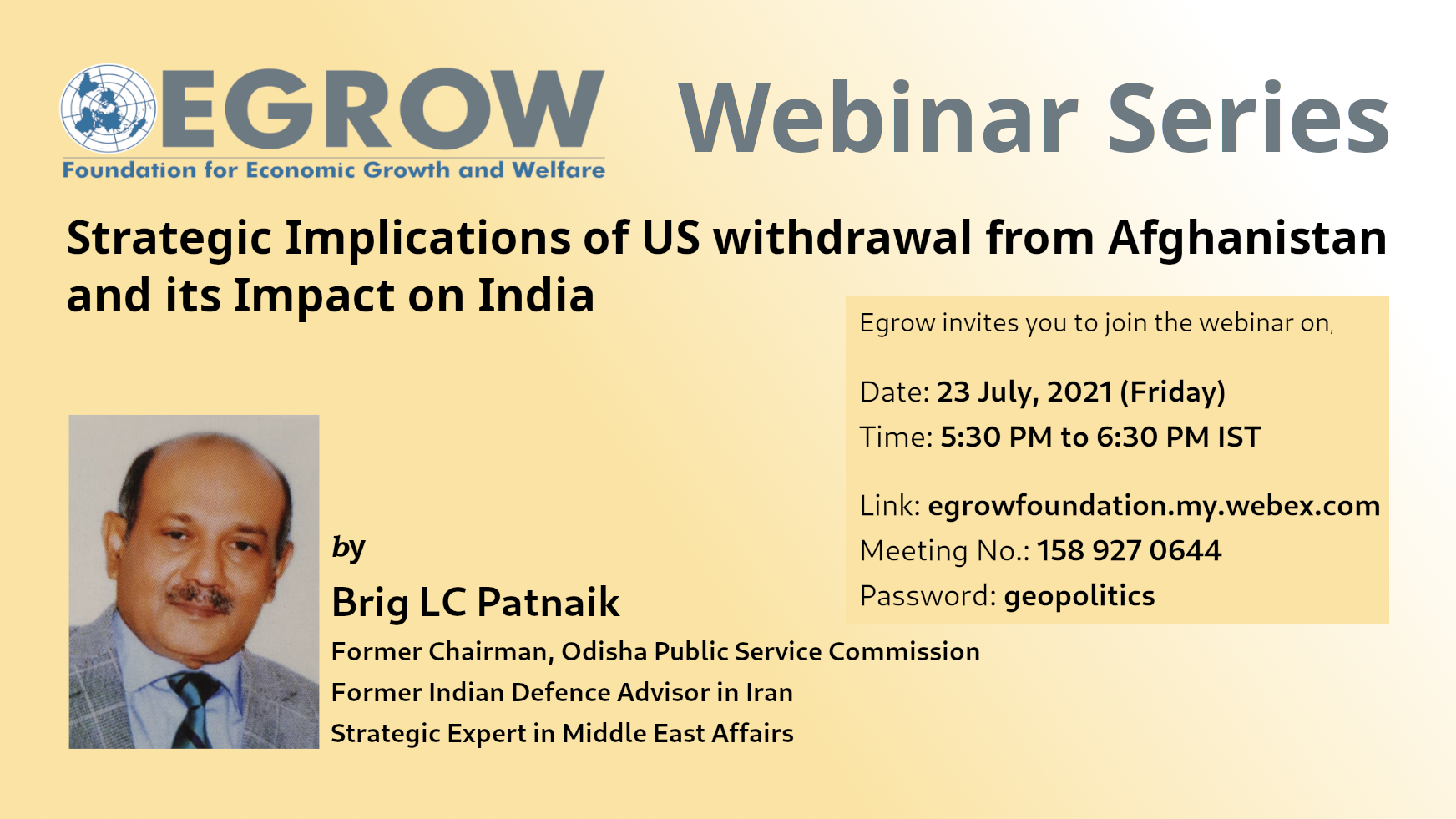 Meeting No: 158 927 0644
Password: geopolitics
---
Abstract
The decision of the United States to withdraw its Forces from Afghanistan had been under debate since 2014. As such, the decision was not hasty. It was based on strategic shift in international politics, new global order, intrusive power of technology to a Nation's sovereignty and the pandemic effect.
To understand the rationale of the strategic decision and its implications in Afghanistan and its neighborhood with appreciated impact on India, it is necessary to analyze the US policy post 9/11, the strategy of the last decade to bring an ' Afghan led and Afghan owned ' solution and the diplomatic stalemate to Doha and Instanbul processes.
The speaker will address the above issues and present his views on the strategic imperatives to settle the conflict through peaceful dialogues , prevent power transition through violent means and possible roles by India.
About the Speaker
Brig LC Patnaik is a decorated Infantry officer with multi domain expertise in combat operations, diplomacy, geo politics and national security. His outstanding operational command experience on the Line of Control in Kashmir, Indo- China borders, Siachen glacier and counter Insurgency in North East along with many coveted staff and Instrucutional appointments in the Army have been exemplary and proof of his high professionalism.
He has a unique understanding of the Middle East affairs as India's Defence Advisor in the Embassy of India in Tehran , post 9/11 operations by US in the Middle East. He was also responsible for military diplomatic outreach to Afghanistan, Iraq and Caucasus countries. He was a key advisor to Govt of India on Iran's nuclear capability and logistic support for Indian infrastructure development in Afghanistan.
Brig Patnaik has also the unique experience of being the Chairman of a Constitutional selection organization such as ; Odisha Public Service Commission and President of Services Selection Board .The above combined experience along with academic expertise in psychology and personality assessment has made him a n extremely high and valuable resource person in talent management in the country.
His academic achievements are highly laudable with a PhD in Srategic Studies ,four Master degrees and many diplomas and certificates.He is guide to many PhD scholars of IP University and is Visiting Professor on National Security to IIT Bhubaneswar. He is the Vice President , Bharatiya Vidya Bhaban and affiliated to many academic institutions in the country.
He is a regular speaker on strategic and national security issues at many think tank forums, universities and research organizations.
---
Certificate of Participants