The $10 Trillion Dream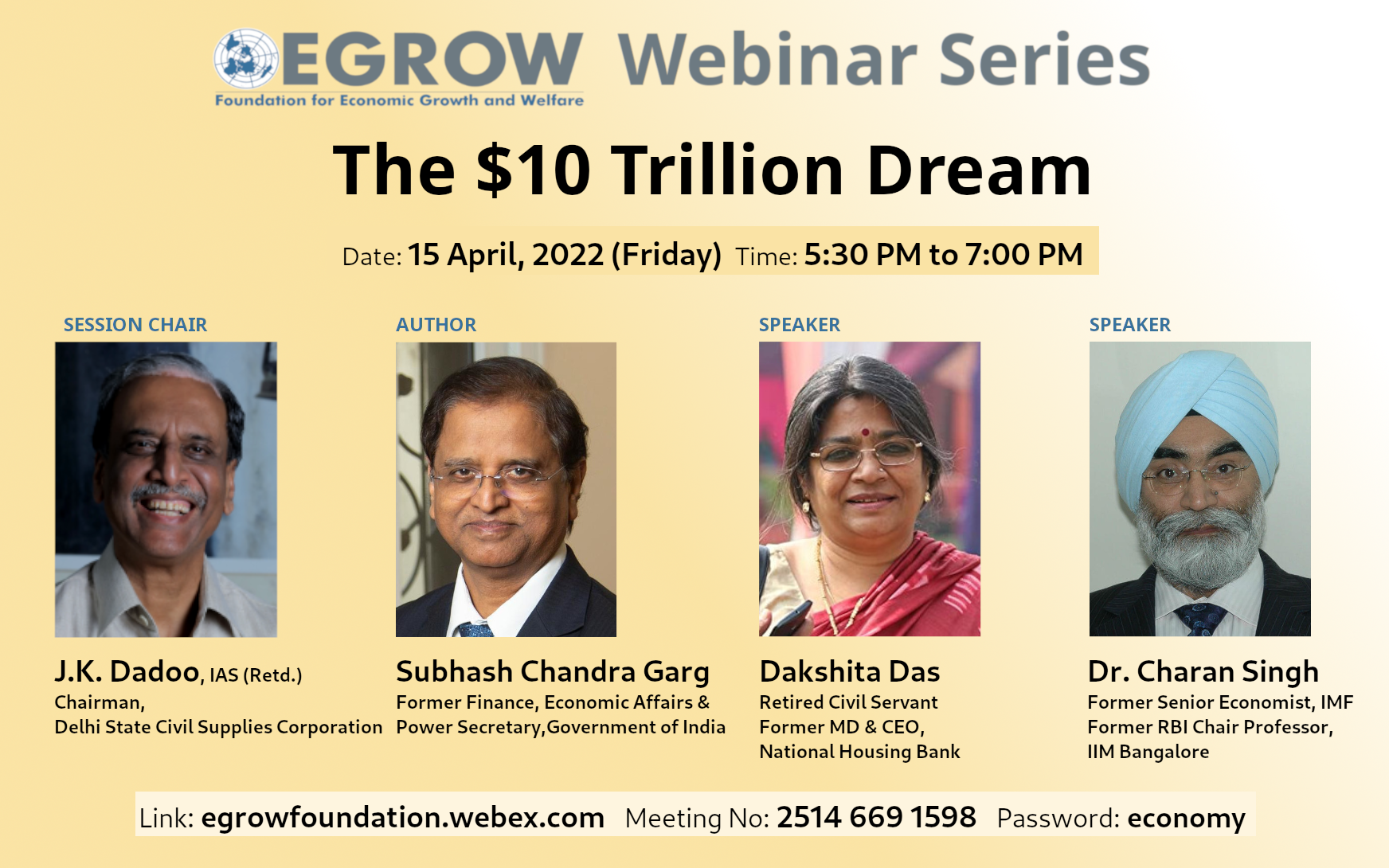 Meeting No: 2514 669 1598
password: economy
---
Abstract
India rightly aspires to be an upper-middle-income economy with its vast workforce gainfully employed to have a decent standard of living. This, however, is a challenging proposition as India continues to grapple with major economic policy issues. This book discusses the present state of India's economy. It thematically explores the critical policy issues India faces today and suggests reforms for India to become a $10-trillion economy by the mid-2030s. The book presents a wide-angled and comprehensive view of the state of the Indian economy.
Economic policy is an important building block of any economy, similar to human resources and capital. The right policies open path of high growth, fair redistribution and adequate delivery of public goods & services. According to the author, India requires to adopt a bold and robust economic policy agenda to bring in chance of building a USD 5 trillion economy by 2026-27 and USD 10 trillion economy by 2035.
The book comprises of plan for India to become a USD 10 trillion economy. It analyses macroeconomy of India, in the light of its evolution since Independence. It also elaborates on performance of the economy on macro parameters of inflation, credit management, fiscal management, growth, inflation, monetary management, foreign capital inflows and other fundamentals. The book also discusses policies in deep to direct significant private sector investment in building digital, environmental, infrastructure and social economy of India.
About the Speakers
J.K. Dadoo
Mr J.K. Dadoo, IAS (Retd.) holds a Master degree (MBA) in Marketing from IIM, Ahmedabad. He is also Bachelor of Law (LLB) from Delhi University and topped Delhi University in Bachelor of Arts (Honours) in Economics from St. Stephen's College. He has been with the Ministry of Commerce and Industry since 2011, first as Joint Secretary and then as Additional Secretary & Financial Adviser and superannuated in Dec. 2017. He has over 30 years' experience of working in various senior positions in the Government of India and State Governments, such as Sub-Divisional Magistrate in Delhi, Principal Secretary (Environment) in Govt. of Delhi, Additional Commissioner of Sales Tax in Delhi, Secretary to Governor of Goa, Development Commissioner & Acting Chief Secretary, Goa, Deputy Commissioner, Arunachal Pradesh, Administrator of Lakshadweep (Governor, Chief Minister and Chief Secretary) etc. He also worked as Counsellor Coordination in the Embassy of India, Moscow, Director (Air Force) in the Ministry of Defence. Mr Dadoo served as a Board member of 7 big Public Sector Undertakings (PSUs) which include MMTC Ltd., The State Trading Corporation of India Ltd. (STC), India Trade Promotion Organization (ITPO), National Textiles Corporation LTD. (NTC), National Institute of Fashion Technology (NIFT), Cotton Corporation of India and Jute Board and also chaired the Audit Committee of said PSUs. He also served a member of the Committee of Approvals for projects of Export Credit Guarantee Corporation (ECGC) and Exim Bank funded by the Ministry of Commerce."
Subhash Chandra Garg
Shri Subhash Chandra Garg Secretary, Department of Economic Affairs, Ministry of Finance, Government of India belongs to the Indian Administrative Service (IAS), 1983 batch, Rajasthan cadre. Shri. Garg has degrees in Commerce and Law from the University of Rajasthan, Jaipur, India and is a professionally qualified Cost and Works Accountant and a Company Secretary.Shri Subhash Chandra Garg was Executive Director in the World Bank Group for Bangladesh, Bhutan, India and Sri Lanka from November, 2014 to July, 2017. Mr. Garg served on the Board of Directors for the International Bank for Reconstruction & Development (IBRD), the International Development Association (IDA), collectively referred as the World Bank, the International Finance Corporation (IFC) and the Multilateral Investment Guarantee Agency (MIGA).
Shri Garg has over 34 years of experience in administration, management and public policy, in finance and several development sectors - agriculture, education, energy and rural development. He has managed government finances both at the Centre and in the State of Rajasthan. In Government of India, he worked as Director in the Department of Economic Affairs (DEA) and Joint Secretary in the Department of Expenditure (DoE), in the Ministry of Finance and in the State of Rajasthan in various capacities as Secretary (Expenditure), Secretary (Budget) and Principal Secretary of Finance. He also occupied other senior positions in the Central Government as Joint Secretary (Agriculture) and Additional Secretary (Cabinet).
Dakshita Das
Dakshita Das was born in Lucknow, India. She studied in Loreto Convent Lucknow and graduated from Lady Sriram College, New Delhi . In 1986 she entered the Indian Civil Services where she continues to work till now.
Her earlier forays into writing were on matters of Public Finance and she featured in various prestigious Indian publications such as the Economic and Political Weekly, The Indian Express, The Financial Express, Sage publications, etc. She took to writing fiction in 2016 and 'Myself Meean IAS' is her maiden book which is a story of self exploration and hope in the life of a young girl form a typical middle tier town of India.
Dr. Charan Singh
Dr. Charan Singh is the former Non Executive Chairman of Punjab & Sind Bank. He was full time visiting faculty and former RBI Chair Professor (Dec 2012 to Dec 2016) at the Indian Institute of Management Bangalore, India where he taught comparative monetary policy and policy issues in Indian economy.
Earlier, he was a Senior Economist at the Independent Evaluation Office of the International Monetary Fund, Washington DC from August 2009 to November 2012 and Research Director (Departments: Economic Policy, Debt Management) at the Reserve Bank of India (1997–2009). Singh earned his doctorate in Economics from the University of New South Wales, Sydney, Australia. He was a visiting scholar for more than a year each at Department of Economics, Harvard University and the Stanford Center for International Development, Stanford University. He is former Director on the Board of National Housing Bank, Delhi and now serving as Director in NABARD Financial Services Ltd, Bangalore. He is also Member, Governing Board at Policy Foundation, New Delhi; Member of Research Advisory Committee, BIRD, National Bank for Agriculture and Rural Development; Honorary Fellow, SKOCH Development Foundation; and Member of the Informal Advisory Group on Housing Sector Issues, IMF, Washington DC.
---
Certificate of Participants