The Eight Per Cent Solution: A Strategy for India's Growth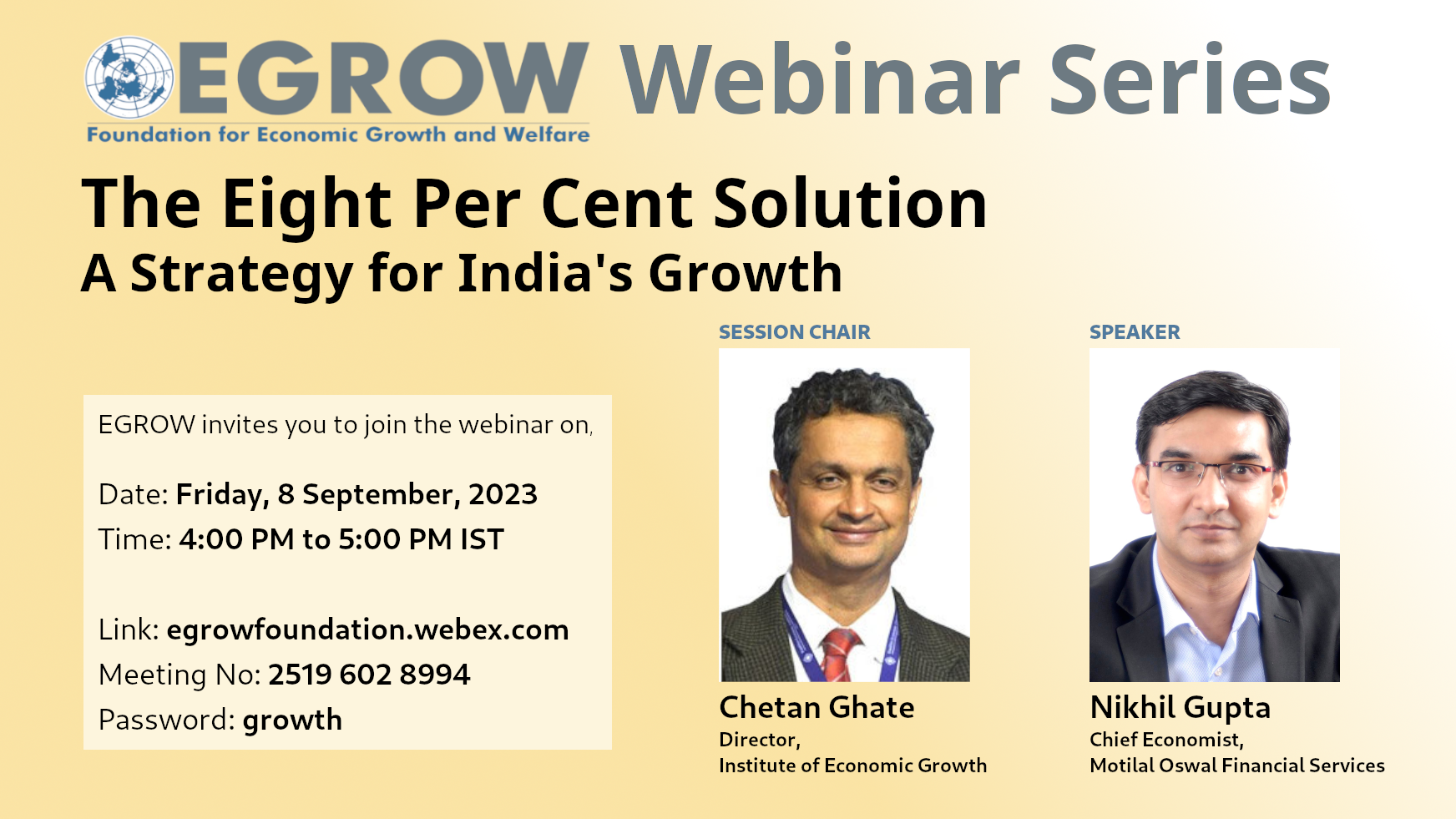 Meeting No: 2519 602 8994
Password: growth
---
Certificate of Participants
To recieve certificates, please register and attend
---
Abstract
After time in the decades since Independence, it stops short midway. India is poised for growth. The GDP is rising. The lumbering elephant is turning into a tiger. But the leap doesn't quite happen. There has been enormous change, but alongside the problems have also been rising. And for a large mass of people, it remains a future of brutal poverty. If India is to meet the needs of its people, it has to consistently generate enough jobs for the millions of youth who enter the job market every year, and build up an infrastructure in which there is enough to go round for education, health and security of its population. The Eight per cent Solution presents Gupta's version of a grand unified theory that brings in the neglected but important elements to show how India can finally achieve that elusive target of a higher phase of growth.
About the Speaker
Chetan Ghate
Chetan Ghate is the Director of the Institute of Economic Growth in New Delhi. He is also a Professor of Economics in the Economics and Planning Unit, Indian Statistical Institute (ISI) – Delhi, since 2003.
Chetan has held several visiting faculty positions in India and abroad, and has been closely involved with the Reserve Bank of India in an advisory capacity. He was a member of the Reserve Bank of India's first Monetary Policy Committee (MPC) until October 2020. From 2012-2013 he was the Reserve Bank of India Chair Professor in Macroeconomics at ICRIER (New Delhi). From February 2013 to September 2016, he was a member of the Technical Advisory Committee (TAC) for monetary policy at the Reserve Bank of India. In September 2013, he served as a member of the Expert Committee to Revise and Strengthen the Monetary Policy Framework. Chetan chairs the academic advisory board of the Reserve Bank of India Academy, and serves on the editorial board of the RBI Occasional Paper Series.
Chetan is a member of the advisory committee of the National Accounts System (ACNAS) in the Ministry of Statistics and Program Implementation. He is also an external affiliate of the Centre for Research in Macroeconomics and Macro-Finance at Swansea University (Wales, UK). He is a member of the Macro Finance Society.
He received his Ph.D. in Economics from Claremont Graduate University, California, in 1999. He completed his M.A. in Economics from the Delhi School of Economics in 1995. His research focus is in the fields of macroeconomics, monetary economics, economic growth and development, and the Indian macroeconomy. In 2014, he was awarded the Mahalanobis Memorial Gold Medal given to the best research economist in India under the age of 45.
Nikhil Gupta
Nikhil Gupta, chief economist and senior group vice-president at Motilal Oswal Financial Services. Nikhil has 8 years of rich experience in tracking Indian economy. He is the cover of his new book 'The Eight Per Cent Solution: A Strategy for India's Growth'. He has undertaken macroeconomic research on major world economies including the US, Eurozone, UK and China. He secured first rank in his post-graduation in Economics from Gokhale Institute of Politics and Economics, Pune.