The Impact of School and Childcare Closures on Labor Market Outcomes during the COVID-19 Pandemic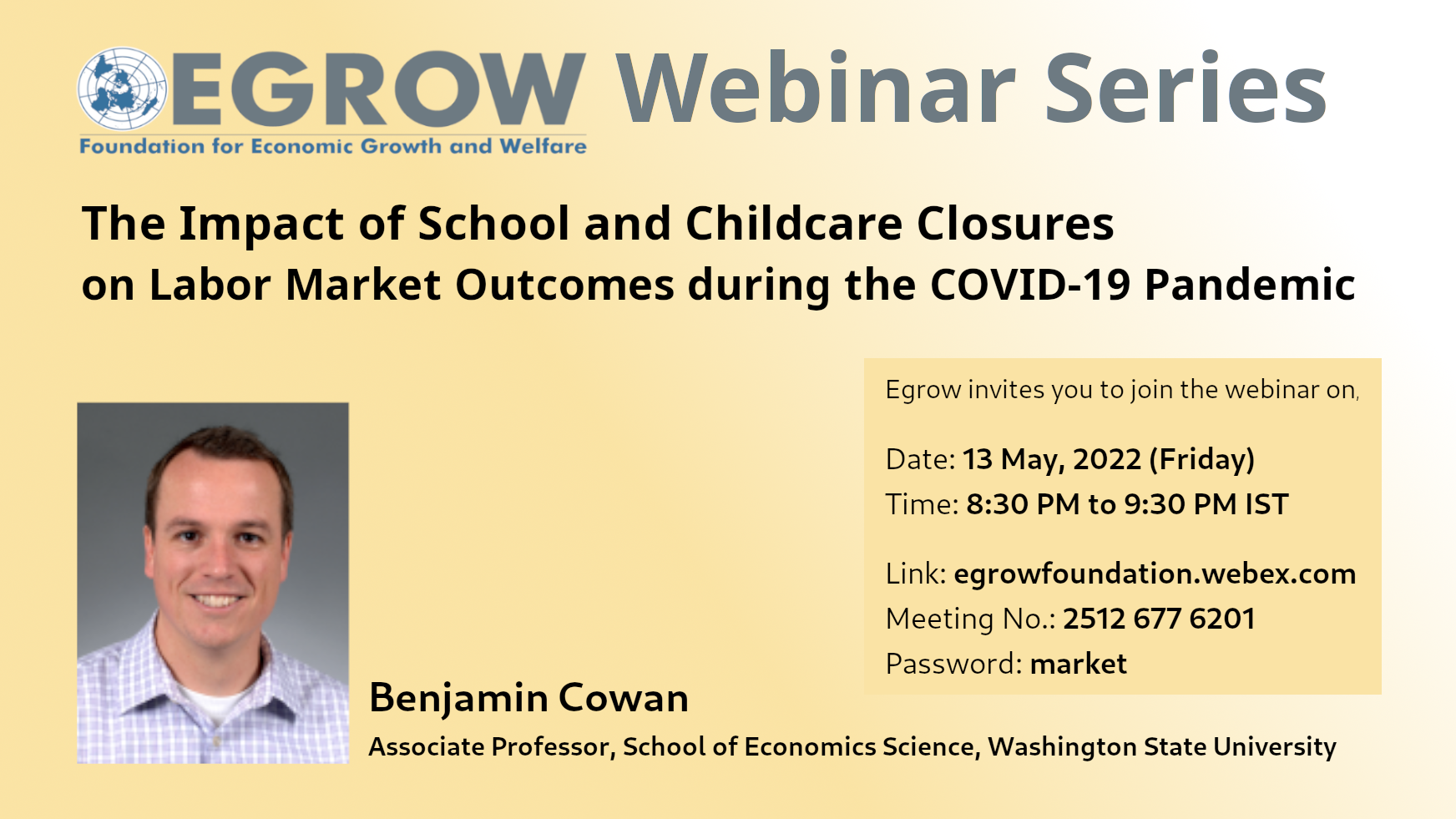 Meeting No: 2512 677 6201
password: market
---
Abstract
A substantial fraction of schools and childcare facilities in the United States closed their in-person operations during the COVID-19 pandemic. These closures may carry substantial costs to the families of affected children. In this presentation , the presenter critically examines the impact of school and childcare closures on parental labor market outcomes during the COVID-19 pandemic.
About Speaker
Benjamin W. Cowan is Associate Professor at School of Economic Sciences, Washington State University. He is also a faculty Research Associate and Research Affiliate at the National Bureau of Economic, Institute for Research on Poverty. His research interests include Health Economics, Labor Economics, Economics of Education. He is also provide Professional service Referee for Journal of Policy Analysis and Management, Journal of Economic Literature, Journal of Public Economics, Journal of Health Economics, Journal of Labor Economics, National Science Foundation, American Economic Journal: Economic Policy, Journal of Human Resources, Economics of Education Review, Journal of Risk and Uncertainty, American Journal of Health Economics, Health Economics, Forum for Health Economics and Policy, Economics and Human Biology, Labour Economics, World Development, Journal of Economic Behavior and Organization, Economics Letters, Canadian Journal of Economics, Economic Inquiry, Empirical Economics, Social Science and Medicine, Education Economics, Review of Economics of the Household, Contemporary Economic Policy, Annals of Economics and Statistics, Southern Economic Journal, Public Finance Review, CESifo Economic Studies, Journal of Agricultural and Resource Economics, USDA Economic Research Service.
In addition to his other appointments and awarded, Professor Benjamin W. Cowan Visiting Professor 2018, Policy Analysis and Management, Cornell University Outstanding Research Award 2016, Western Agricultural Economics Association Honors College Thesis Advisor Award 2014, Washington State University Fellow, Visiting Scholars Program 2013, Collegio Carlo Alberto, Turin, Italy.
Professor Benjamin W. Cowan holds Ph.D. in Economics, University of Wisconsin–Madison 2010, M.S. in Economics, University of Wisconsin–Madison 2007, B.A. in Economics, Magna cum Laude, Brigham Young University 2004.
---
Certificate of Participants