The Impact of the Pandemic Recession on Women's Employment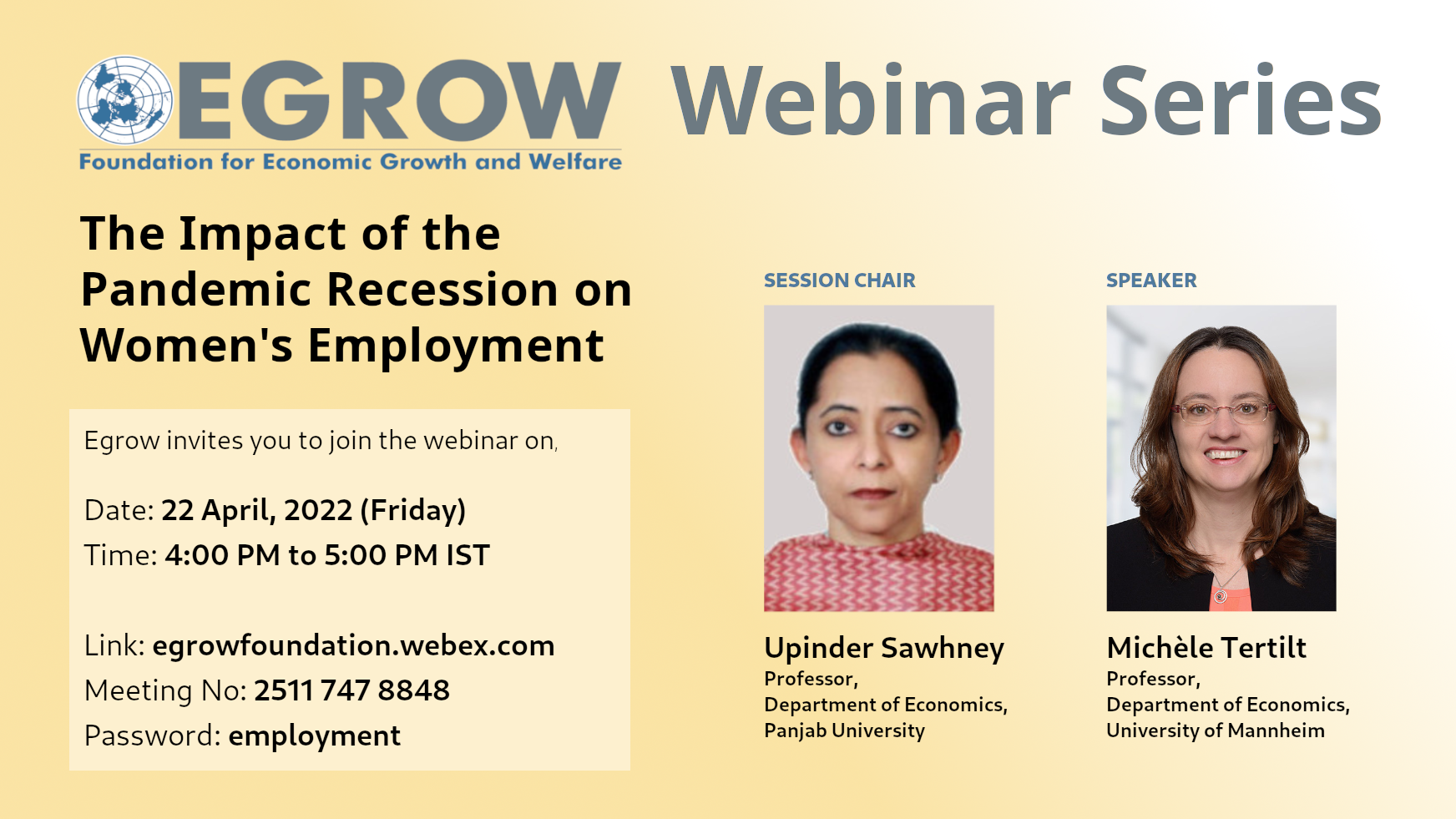 Meeting No: 2511 747 8848
password: employment
---
Abstract
In recent US recessions, employment losses have been much larger for men than for women. Yet, in the current recession caused by the Covid-19 pandemic, the opposite is true: unemployment is higher among women. In this paper, we analyze the causes and consequences of this phenomenon. We argue that women have experienced sharp employment losses both because their employment is concentrated in heavily affected sectors such as restaurants, and due to increased childcare needs caused by school and daycare closures, preventing many women from working. We analyze the repercussions of this trend using a quantitative macroeconomic model featuring heterogeneity in gender, marital status, childcare needs, and human capital. Our quantitative analysis suggests that a pandemic recession will i) feature a strong transmission from employment to aggregate demand due to diminished within-household insurance; ii) result in a widening of the gender wage gap throughout the recovery; and iii) contribute to a weakening of the gender norms that currently produce a lopsided distribution of the division of labor in home work and childcare.
About the Speakers
Upinder Sawhney
Upinder Sawhney is professor, chairperson and coordinator of UGC Special Assistance Programme at Department of Economics, Panjab University, Chandigarh. A Fulbright – Nehru Fellow, she also serves as convener, Jawaharlal Nehru Chair and Dr. Manmohan Singh Chair at Panjab University since April, 2016. She was a member of the Regional Advisory Group at NABARD and has taught a course on Inter-Cultural Management – Development Process of the Indian Economy at the University of Wurzburg, Germany. Her doctoral thesis is on Public Enterprise in a Predominantly Agricultural Economy: A case study of Punjab.
Michèle Tertilt
Michèle Tertilt is a Professor of Economics at the University of Mannheim. She is a Director of the Review of Economic Studies and a Research Professor at the Deutsche Bundesbank. She is a fellow of the Econometrics Society, CEPR, BREAD, EUDN, CESifo and IZA. Prior to joining the University of Mannheim, Michèle Tertilt was a faculty member at Stanford University. She also spent a year at the University of Pennsylvania and a year as a Hoover National Fellow. She holds a PhD from the University of Minnesota and an undergraduate degree (Diplom-Volkswirt) from Bielefeld University.
Her research concentrates on macroeconomics with a special focus on development and intra-family interactions. In her work she has connected polygyny with poverty in Africa, explored the evolution of women's rights, and analyzed policies to curb HIV. She has studied consumer credit and bankruptcies. Her recent work on the effect of Covid19 on gender equality has received much attention in the media. Her research has been financed through multiple prestigious research awards, including a Gottfried-Wilhelm Leibniz Award (2019), an ERC grant (2013-2018), a Sloan Research Fellowship (2009-2011) and multiple NSF grants. She has also won the Yrjö Jahnsson Award (2017) and the Gossenpreis (2013) for her work.
---
Certificate of Participants