The Power of Creative Destruction: Economic Upheaval and the Wealth of Nations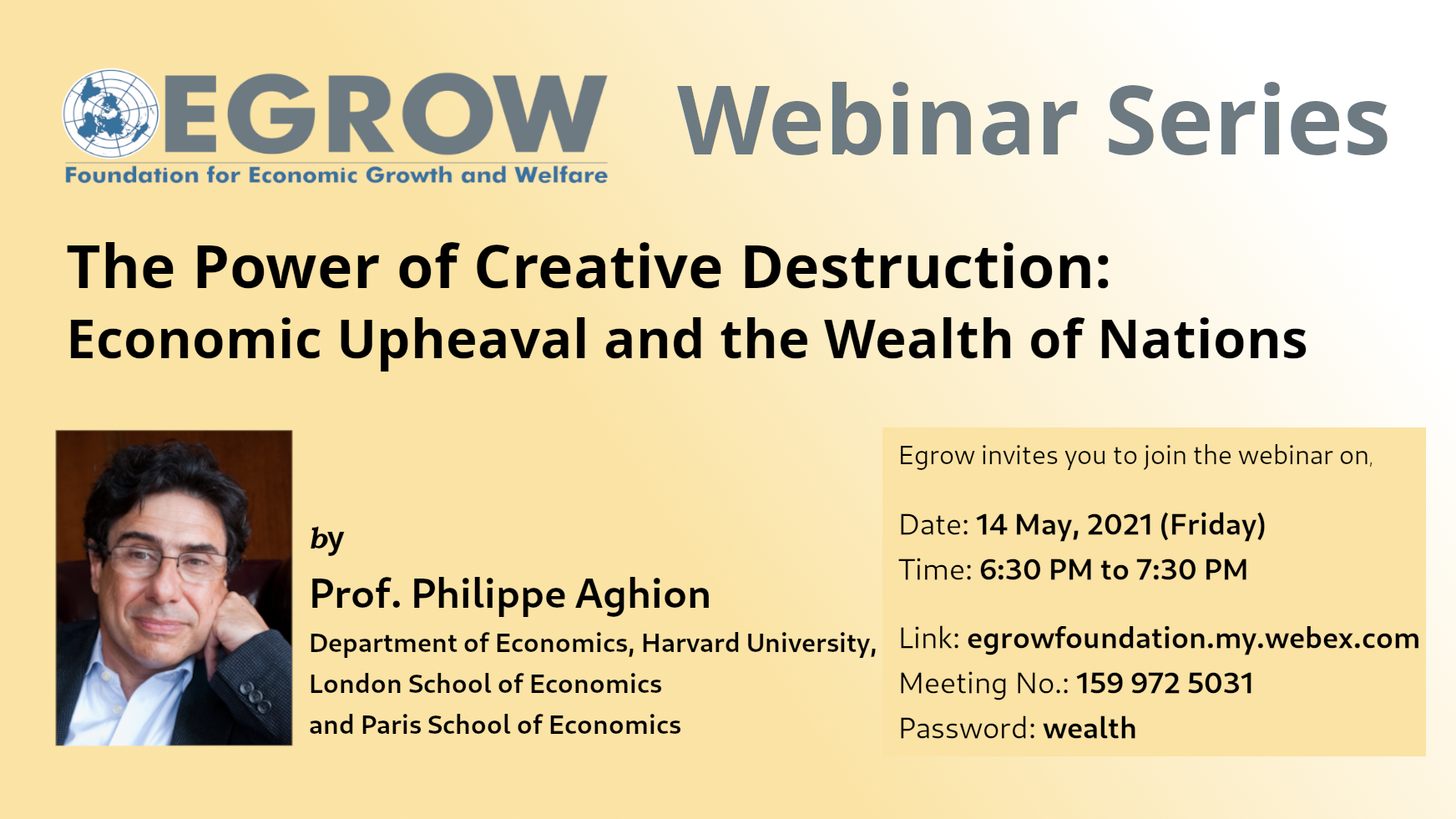 Meeting No: 159 972 5031
Password: wealth
---
Abstract
A cutting-edge analysis of what drives economic growth and a blueprint for prosperity under capitalism. Crisis seems to follow crisis. Inequality is rising, growth is stagnant, the environment is suffering, and the COVID-19 pandemic has exposed every crack in the system. We hear more and more calls for radical change, even the overthrow of capitalism. But the answer to our problems is not revolution. The answer is to create a better capitalism by understanding and harnessing the power of creative destruction—innovation that disrupts, but that over the past two hundred years has also lifted societies to previously unimagined prosperity. In this talk the presenter draw on cutting-edge theory and evidence to examine today's most fundamental economic questions, including the roots of growth and inequality, competition and globalization, the determinants of health and happiness, technological revolutions, secular stagnation, middle-income traps, climate change, and how to recover from economic shocks. It is further shown that we owe our modern standard of living to innovations enabled by free-market capitalism. But we also need state intervention with the appropriate checks and balances to simultaneously foster ongoing economic creativity, manage the social disruption that innovation leaves in its wake, and ensure that yesterday's superstar innovators don't pull the ladder up after them to thwart tomorrow's. A powerful and ambitious reappraisal of the foundations of economic success and a blueprint for change. Finally it shows that a fair and prosperous future is ultimately ours to make.
About the Speaker
Philippe Aghion was formerly the Robert C. Waggoner Professor of Economics at Harvard University and is currently Professor of Economics at London School of Economics and Collège de France, and an invited professor at the Paris School of Economics, having previously been Professor at University College London, an Official Fellow at Nuffield College, Oxford, and an Assistant Professor at Massachusetts Institute of Technology (MIT).
His main research work is on growth and contract theory. With Peter Howitt, he developed the so-called "Schumpeterian paradigm", and extended the paradigm in several directions; much of the resulting work is summarised in his joint book with Howitt entitled Endogenous Growth Theory. For 2019 he received the BBVA Foundation Frontiers of Knowledge Award in Economics.
He was elected as a Corresponding Fellow of the British Academy in 2015. He is a fellow of the European Economic Association.
---
Certificate of Participants