The Shape of the Next Cycle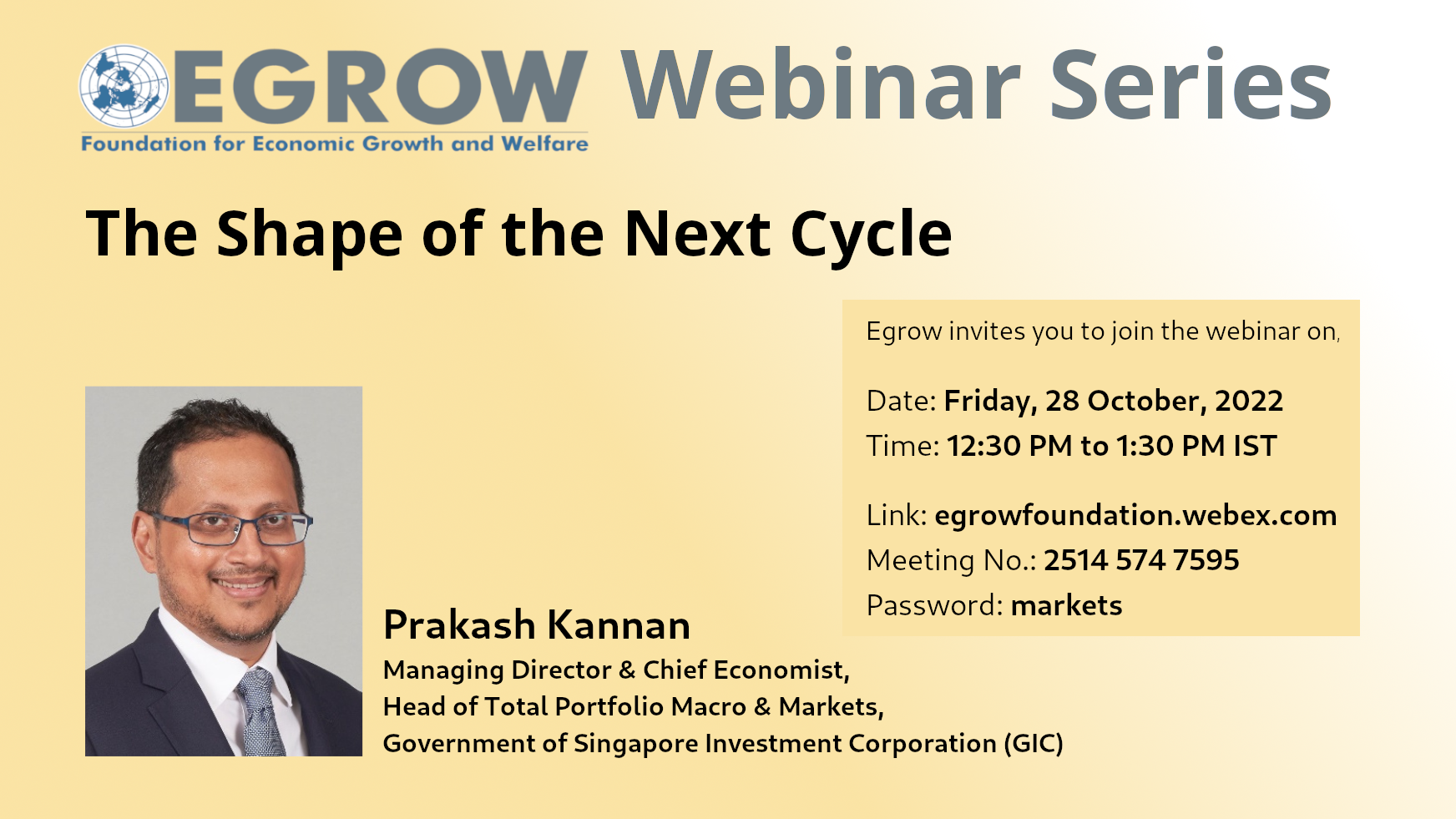 Meeting No: 2514 574 7595
Password: markets
---
Abstract
It is slowly seeping into the consensus narrative that developed markets are likely to experience a recession over the next 12 months. While the recession is expected to be mild, the impact on financial markets is expected to be large given the excesses built up over a period of prolonged monetary easing. However, it is more important that we start to think hard about what happens after the recession. There are reasons to believe that the shape of the next cycle will be different compared to what we experienced between the end of the Global Financial Crisis and the start of the pandemic: inflation is likely to be higher, the shape of globalization is likely to be different, energy markets are likely to be more volatile, governments are likely to play a bigger role, and the trend decline of growth in China is likely to be more salient. The implications can be quite profound.
About the Speaker
Prakash Kannan is Chief Economist and Head of Total Portfolio Macro & Markets at GIC. He also serves as Co-Head of the Opportunistic Asset Allocation team. He is responsible for developing medium-term global macro and asset allocation strategy for the firm. He also serves as a member of GIC's Investment Management Committee and Currency Risk Management Group. His previous roles in the firm included Deputy Head of Total Portfolio Strategy as well as Head of Economics & Capital Markets.
Prakash joined GIC in 2012. Prior to joining GIC, he worked with the International Monetary Fund (IMF), the Central Bank of Malaysia (Bank Negara Malaysia), and GTE's Pension Fund. He is currently a Council Member and Chair of the Investment Committee of the Economic Society of Singapore. He also serves as a member of the Advisory Council of OMFIF, the Investment Committee of the Singapore Indian Development Association, and NTU's Academic Advisory Board. He was formerly on the Advisory Board for the Centre for Asset Management Research & Investments (CAMRI) at the National University of Singapore Business School. He has published research in peer-reviewed journals such as the European Economic Review and the Journal of International Money and Finance.
Prakash holds a Bachelor of Science in Economics from MIT and a doctorate in Economics from Stanford University. He is also a CFA charterholder.
---
Certificate of Participants