The Strategic Fallout of the US withdrawal from Afghanistan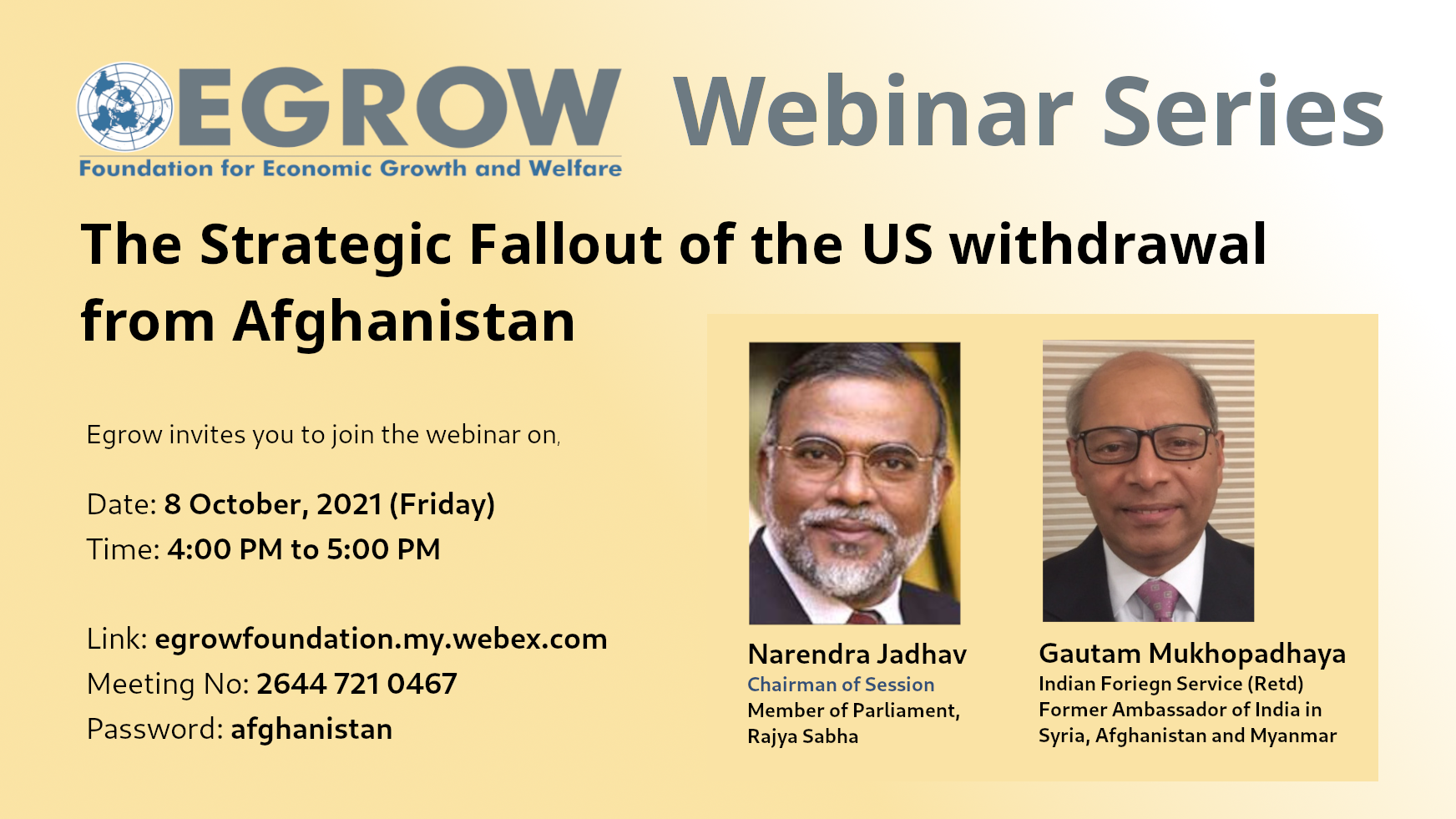 Meeting No: 2644 721 0467
Password: afghanistan
---
Abstract
On 30 August 2021, the United States Armed Forces concluded their departure from Afghanistan, bringing the 2001–2021 Afghan War to a conclusion. The withdrawal occurred in the context of the Doha Agreement (officially titled the Agreement for the Purpose of Bringing Peace to Afghanistan), which was signed in February 2020 by the Trump administration and the Taliban without the participation of the Afghan government. The agreement provided for the withdrawal of all foreign forces from Afghanistan in exchange for the Taliban's pledge to prevent al-Qaeda from operating in areas under Taliban control and future talks between the Taliban and the Afghan government. However, some have claimed that regardless of when the withdrawal was finished, there would have been unpredictability on the ground due to the difficulties inherent in managing large numbers of evacuations in a dangerous area.
Islamabad and New Delhi will handle the Taliban in diametrically opposed ways. Pakistan has a lengthy history of cooperation with the Taliban. It helped form the organisation and supported it for years, including being one of only three countries in the 1990s to recognise the Taliban administration. In comparison, India only reached out to the Taliban on an official level a few weeks ago. It has correctly regarded the Taliban as a Pakistani asset with an anti-India stance.
Pakistan will almost certainly demand security assurances from the Taliban, particularly about its willingness to restrict space to the Pakistani Taliban, an anti-Taliban group based in Afghanistan. Islamabad is unlikely to demand significant concessions from the Taliban in exchange for recognising the Taliban administration. New Delhi, on the other hand, will exercise caution and monitor Taliban activity carefully before making a move against them.
Additionally, Iran and Russia, as well as another major US adversary, China, benefit from and are harmed by the US exit. Certainly, the United States' withdrawal presents a strategic opportunity, as it means the elimination of the United States' imprint in their vicinity. However, these countries also acknowledges that the US presences also provided a military balance in the region
The presentation will critically examine the military balance of the region and explore the strategic advantages and disadvantages of the situation on India, South Asia and other major countries
About the Speaker
Narendra Jadhav
Dr. Narendra Jadhav is a Member of Parliament-Rajya Sabha (nominated by the President of India). Professionally, Dr. Jadhav is an Economist, Educationist, Academic, Administrator and Author in English, Marathi and Hindi.
As an Independent Member of Parliament, Dr Jadhav has carved out a distinct place for himself through his studious interventions in the House and while serving on various Standing Committees (i.e. Finance, Commerce, Information Technology, Social Justice and Empowerment and Welfare of SC/ST), as well as Consultative Committees (i.e, External Affairs, Tourism and Culture).
He is the recipient of as many as 70 national and international awards for his contribution to Education, Literature, Culture and Social Work besides Economics. These include four Honorary D.Litt Degrees from Universities in four different States, Thomas Hart Benton Mural Medallion i.e, the President's Medal from Indiana University, USA and above all, the title of the 'Commander of the Order of Academic Palmes' by Government of France.
Dr Narendra Jadhav featured in TIME (October 1997), the National Geographic Journal on "Caste System in India" (March 2004), in International Herald Tribune (2005) and a Cover Story in Readers' Digest (October 2006).
Narendra Jadhav has outstanding academic credentials. After initial studies at Mumbai University with exceptional track record, he earned his PhD from Indiana University, USA with distinction, i.e., Award for Outstanding Contribution to Economic Theory as also the Best International Student Award. While completing his PhD dissertation, Dr Jadhav also taught in two Universities in the US - Indiana University, and DePauw University, where he was an exceptionally popular teacher. On completion of his studies, turning down several lucrative job offers in the US, Dr Jadhav immediately returned to India and dedicated himself to Public Service. He has served in various prestigious positions viz Member, Planning Commision; Vice Chancellor of Savitribai Phule Pune University; Chief Economist, Reserve Bank of India.
Gautam Mukhopadhaya
Ambassador Gautam Mukhopadhaya joined the Centre for Policy Research as a Senior Visiting Fellow in June 2019 after a career in the Indian Foreign Service during which he served in various capacities in Indian Embassies and Missions in Mexico, Cuba, France, and the United Nations; the Ministry of Defence of India (2002-05); and eventually as India's Ambassador to Syria (2006-08), Afghanistan (2010-13) and Myanmar (2013-16). He also re-opened the Indian Embassy in Kabul in November 2001 as Charge d'Affaires after the ouster of the Taliban in Afghanistan in November 2001.
Ambassador Mukhopadhaya's current areas of interest at the Centre include Afghanistan and Myanmar, India's Act East policy, and regional cooperation involving South and South East Asia with a focus on the North East of India on which he hopes to stimulate some policy work at the Centre. His other current affiliations include an association with the NITI Aayog's 'NITI Forum for the North East' as an Advisor, and Chair of a CII Task Force on economic ties with Cambodia, Laos, Myanmar and Vietnam (CLMV countries).
Mukhopadhaya's diplomatic career has been notable for the range of his professional experience covering media, culture, human rights, development, defence and security issues. He graduated from Delhi University with a Bachelor's degree in History and a Masters in Sociology. He is an alumni of the National Defence College of India (2001) and has also worked at the UN Headquarters in New York as a Consultant on Social Development (September 1999-August 2000) and as a Visiting Fellow at the Carnegie Endowment for International Peace in Washington DC, (October 2009-March 2010). He also handled the Festival of India in France (1985-86). His extra-curricular interests include Indian and world music, and travel, with a special interest in the North East of India and South East Asia.
---
Certificate of Participants