Union Budget of Feb 1, 2023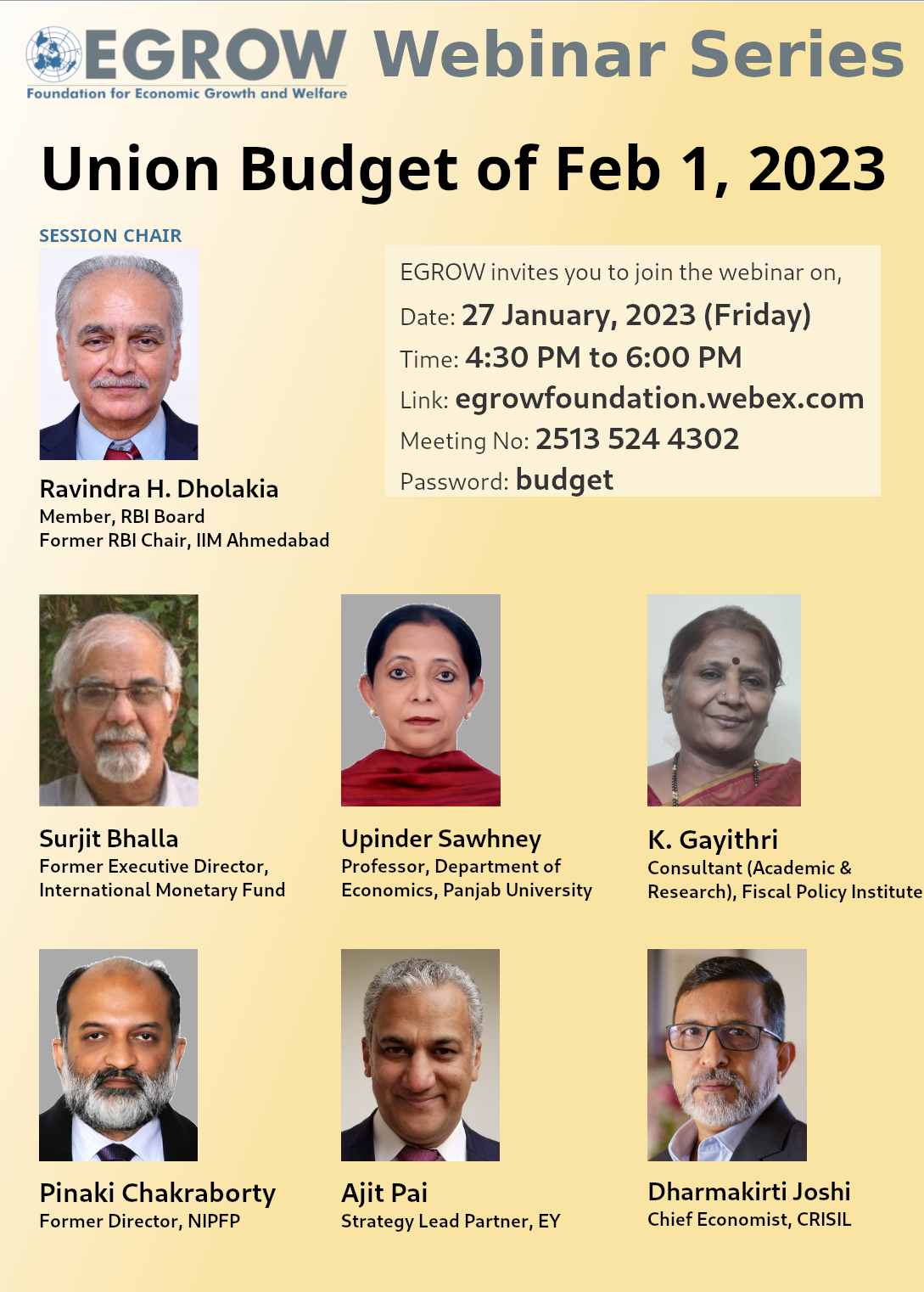 Meeting No: 2513 524 4302
Password: budget
---
About the Speakers
Dr. Ravindra H. Dholakia
Professor Dholakia was the Economics Area faculty at IIM Ahmedabad from 1985 to April 2018 when he superannuated. He received the Most Distinguished Faculty Award for the year 2017-18 at IIMA. He has about 41 years of experience of teaching Economics to different groups like students, executives, policy makers and senior government officers. He was a regular visiting faculty to teach at the European Management Institute (ESCP-EAP), Paris from 2002 to 2005. He has collaborated on a series of research projects with the Earth Institute of Columbia University from 2004-05 to 2012-13. He has considerable practical experience working in high powered policy making and evaluation bodies in both the Central and State Governments in India. He was on the Monetary Policy Committee of India (2016-21). He was a member of the Sixth Central Pay Commission (2006-08) deciding revision of the pay and pension of more than 10 million employees in India. He was also a Member of the High Level Committees on Leveraging Postal Network in India (2014), HR Issues in the Merger of Air India and Indian Airlines (May 2011- Jan.2012), Public Expenditure Management (2009-10), and on Savings and Investment Estimation (2008-09) appointed by the Government of India; a Member of the Expert Committee on Restructuring of the State Public Sector Units (2004-08), the Public Debt Management Committee (2005-06), and the State Public Finance Reform Committee (1998 – 2000) appointed by the Government of Gujarat. He has recently chaired a Committee on Financial Sector Statistics (2016-18) and is currently chairing a Committee on Sub-National Accounts appointed by the Ministry of Statistics and Programme Implementation, Government of India (2018 onwards) and had chaired a Committee on Cost Saving and Resource Use Optimization in Air India, appointed by Ministry of Civil Aviation, Government of India (2013).
Surjit Bhalla
Dr. Surjit S Bhalla is the Former Executive Director IMF, representing India, Sri Lanka, Bangladesh and Bhutan. He holds a PhD in Economics from Princeton University. He is a former part-time member of Hon'ble Prime Minister Narendra Modi's Economic Advisory Council. In addition, he served as Chairperson for the Ministry of Commerce High Level Advisory Group on Trade; Economic Adviser to the Fifteenth Finance Commission, Government of India. He is a regular Invitee to the Aspen Institute Program on World Economy, USA, 2002-present. He was also a Contributing Editor for Indian Express (2014-2019). He was Founder-Chairman of Oxus Research & Investments 1997-2017.
Upinder Sawhney
Upinder Sawhney is professor, chairperson and coordinator of UGC Special Assistance Programme at Department of Economics, Panjab University, Chandigarh. A Fulbright – Nehru Fellow, she also serves as convener, Jawaharlal Nehru Chair and Dr. Manmohan Singh Chair at Panjab University since April, 2016. She was a member of the Regional Advisory Group at NABARD and has taught a course on Inter-Cultural Management – Development Process of the Indian Economy at the University of Wurzburg, Germany. Her doctoral thesis is on Public Enterprise in a Predominantly Agricultural Economy: A case study of Punjab.
K. Gayithri
Gayithri Karnam is a Consultant (Academic and Research) at the Fiscal Policy Institute, Government of Karnataka, Bengaluru. She was formerly a Professor of Economics in the Center for Economic Studies and Policy at the Institute for Social and Economic Change, Bangalore. She specializes in the area of Public Economics, Industrial Economics and Public policy studies. She has conducted extensive research in the area of state fiscal studies, public expenditure planning and management, Budget reforms. She has served as an advisor on a number of state government committees and as consultant to international donor agencies like USAID and DFID in state level fiscal studies. She has been a recipient of Shastri Indo Canadian faculty research fellowship twice to undertake comparative fiscal studies at the Carleton University, Canada. She has undergone training at the Duke Center for International development, Duke University on aspects relating to 'public budgeting and financial management'. She has also participated in the executive education program on 'Public financial management in a changing world' at the John F Kennedy School of government at the Harvard University, Boston.
Pinaki Chakraborty
Pinaki Chakraborty is the Director, National Institute of Public Finance and Policy New Delhi. Prior to this, he was the Chief-Social Policy-UNICEF, and the Chief of Field Office-UNICEF Kerala and Tamil Nadu. Since 2008, he has been Professor at the National Institute of Public Finance and Policy, New Delhi. He served as a Member, Advisory Council to the Fifteenth Finance Commission of India; Member-Secretary, Committee on Fiscal Statistics appointed by the National Statistical Commission in 2017; Chairman, Kerala Public Expenditure Review Committee-a statutory committee appointed by the Government of Kerala; and Research Associate, Levy Economics Institute, New York. From May 2013 to December 2014, Chakraborty served as Economic Adviser to the 14th Finance Commission of India, heading the Economic Analysis and Technical Coordination Division of the Commission. He also served as a Member of the Third Union Territory Finance Commission, appointed by the Ministry of Home Affairs, and as a Consultant to the Eleventh Finance Commission of India.
Chakraborty has critical domain knowledge of the public finances of the national and state governments and has served on the advisory committees of various research institutions in India. He has also held short term visiting appointments in the Department of Economics at the University of Ottawa and the University of Carleton, and at the Centre for Development Studies-affiliated to Jawaharlal Nehru University (JNU), New Delhi, and taught Indian Public Finance course at the Indira Gandhi Institute for Development Research, Mumbai.
He testified before the Select Committee of the Upper House of India Parliament in June 2015 on the Constitution Amendment Bill on GST. His book titled "GST in India: A Simple Tax in a Complex Federal System" has been published by Orient Back Swan in 2019. He has also researched extensively on the decentralization and development of States in India. He has co-authored two books titled 'State Level Reforms, Growth, and Development in Indian States" published by the Oxford University Press, New York in 2014 and 'Social Sector in a Decentralised Economy: India in the Era of Globalization' published by Cambridge University Press. He publishes regularly on various national and international journals. He has an MPhil in Applied Economics and PhD in Economics from the Centre for Development Studies.
Ajit Pai
Ajit Pai is Chairman, Delhi Urban Art Commission, and Strategy Lead Partner for Government and Public Sector at EY's Strategy and Transactions group.
Prior to this, he was Distinguished Expert, NITI Aayog, where he headed Economics & Finance, oversaw Public Disinvestment and Public Enterprises., was Consultant to the Vice Chairperson, and handled matters related to the World Bank, IFC, IMF, ADB, NDB, OECD, and the G20.
Previously, he had a career in the private sector including working internationally at firms like McKinsey, Lazard, Thomas Weisel Partners and Stifel Financial, the latter two as Managing Director. He has been awarded over six years a record five #1 Starmine Awards in the Forbes/Financial Times World's Best Analysts Survey for forecast accuracy.
Mr. Pai holds a B.Arch. from the School of Planning and Architecture, New Delhi, a M.Arch. from the Yale School of Architecture and a MBA from the Yale School of Management. He attended Yale University as a Tata Scholar and also served as a John M Olin Fellow for research in markets and regulatory behavior.
His active interests include Architecture, Design, Anthropology, Urbanism, Planning, History, Economic Development, Sustainability, Horticulture, Finance, Technology, Policy, and Governance. He is on the Advisory Board of the Future Institute, and is registered with the Council of Architecture.
Dharmakirti Joshi
Dharmakirti Joshi is currently the Chief Economist at CRISIL. With over 33 years of experience in economic research and consultancy, his career began in NCAER where he spent 11 years. He then moved on to senior positions in Central Electricity Regulatory Commission, New Delhi and CRISIL- An S&P Global Company. He has extensive experience in 'macroeconomic analysis, medium term assessment of Indian economy and forecasting as well as in public finance issues at the central and state levels. He has been a consultant to the state governments on fiscal issues. He is currently member of Working Group on Revision of Wholesale Price Index set up Government of India.
Mr Joshi holds a master's degree in economics from Punjab University, Chandigarh. He has attended program on Macroeconomic Policy and Management at Harvard University and was a visiting scholar to Economic Research Unit of University of Pennsylvania. He is also the Chairman of Economic Affairs group Federation of Indian Chambers of Commerce & Industry and member of Economic Affairs council of Confederation of Indian Industry (CII). He has co-authored a book on state finances and has several research articles to his credit. He often writes for leading newspapers and expresses his views on the economy in the electronic media.
---
Certificate of Participants