US Pension and Health: Lessons for India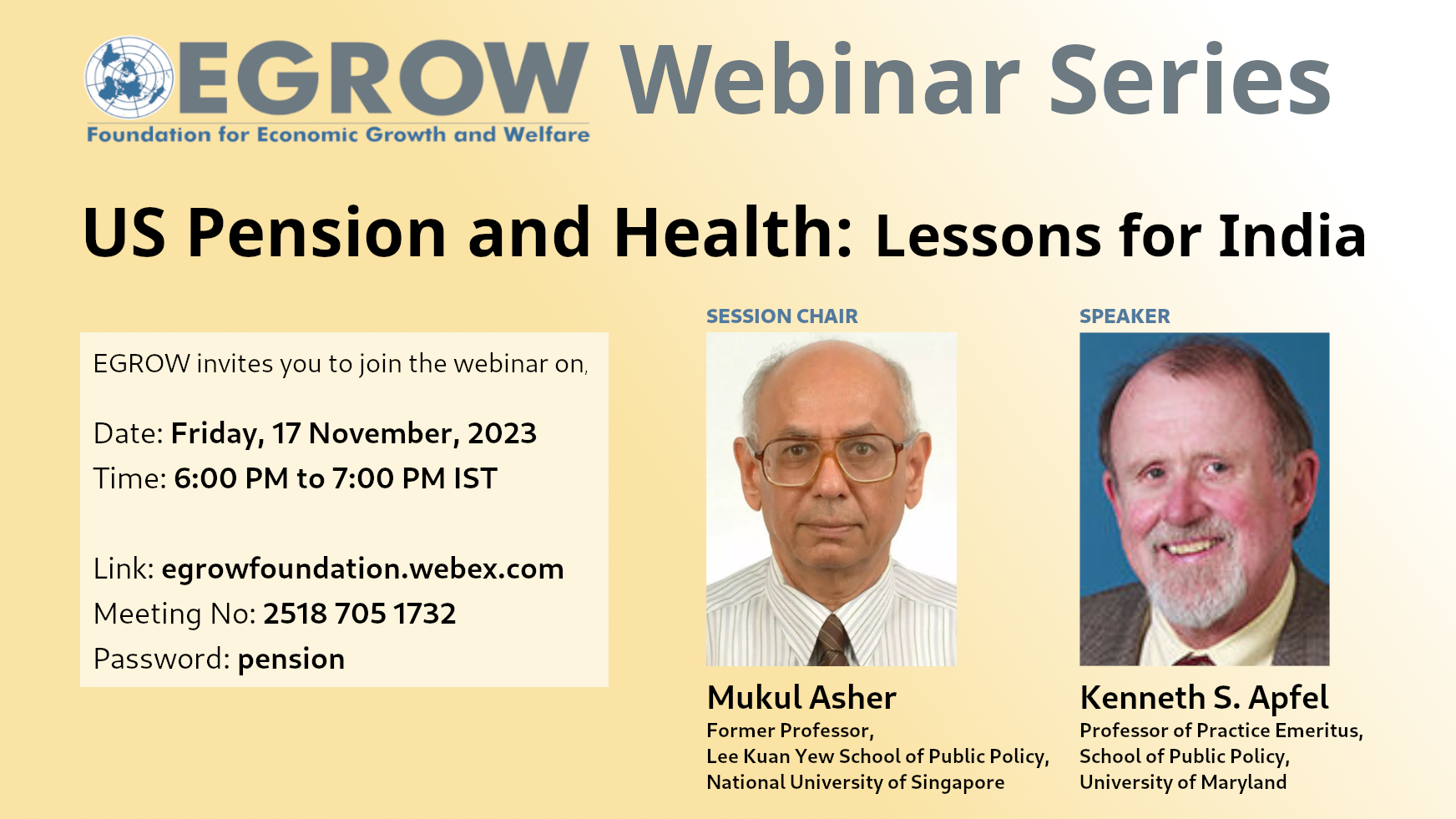 Meeting No: 2518 705 1732
Password: pension
---
Certificate of Participants
To recieve certificates, please register and attend
---
Abstract
The United States' experience with pension and health systems offers valuable lessons for India as it navigates the complexities of social security and healthcare. The U.S. pension system, primarily centered around Social Security, provides insights into the challenges and successes of a large-scale, government-managed retirement program. Understanding the demographic shifts, financial sustainability, and adaptability of the U.S. pension model can provide lessons for the Indian Pension System.
About the Speakers
Mukul Asher
Mukush Asher, an Indian national, was a Professor in the Lee Kuan Yew School of Public Policy at the National University of Singapore. In addition to India, Singapore and USA, he has also taught or researched in U.K., Sweden, Japan, Australia and Malaysia. His research has focused on fiscal reforms, India's external economic policies, and pension reform in Asia.
He has authored or edited several books, and has published numerous articles in national and international journals. He serves as advisor on the editorial board of several journals, including International Social Security Review (ISSR), and IIM-Bangalore Management Review, and Journal of Financial Regulation and Compliance. He is a Consulting Editor for E-Social Sciences (Ess), an electronic Journal published from Mumbai.
He has been a consultant on tax reforms and social security issues to the Government of Gujarat, World Bank, International Monetary Fund, Asian Development Bank, Organization for Economic Cooperation and Development (OECD), and World Health Organization (WHO).
He has addressed many academic conferences and business and professional gatherings around the world. He has been involved as Faculty Chair and as resource person in conducting many Executive Education programs involving high level policymakers. His contact with the print and television media has been extensive.
He received his PhD in Economics from Washington State University in 1972. His undergraduate education was at Bombay (Mumbai) University.
Kenneth S. Apfel
Kenneth S. Apfel is Professor of Practice Emeritus at the University of Maryland School of Public Policy He joined the faculty in 2006 and until 2015 he also directed the School's Management, Finance and Leadership Program. From 2001 to 2006, he held the Sid Richardson Chair at the LBJ School of Public Affairs at the University of Texas at Austin.
He was appointed in 2011 to the Maryland Health Exchange Board to help implement health reform in Maryland. He is also a longstanding Board member and Chair of the Center on Budget and Policy in Washington, DC. He also served as Board Chair of both the National Academy of Public Administration and the National Academy of Social Insurance.
Apfel spent the Spring 2014 semester as a Fulbright scholar in Delhi, India at the National Council for Applied Economic Research, researching India's health insurance and public pension policies.
Prior to his academic appointments, Apfel served as the Commissioner of the Social Security Administration (SSA) from 1997 until 2001. He was the first Senate-confirmed Commissioner of Social Security after SSA became an Independent Agency and Congress authorized the new Cabinet-level position.
Prior to SSA, Apfel was the Associate Director for Human Resource Programs at the Office of Management and Budget (OMB) in the Executive Office of the President. Prior to his appointment at OMB, Apfel served as Assistant Secretary for Management and Budget at the U.S. Department of Health and Human Services (HHS). From 1978-1992, he worked on Capitol Hill for Senator Bill Bradley and the US Senate Budget Committee.