What are we learning from the Ukraine war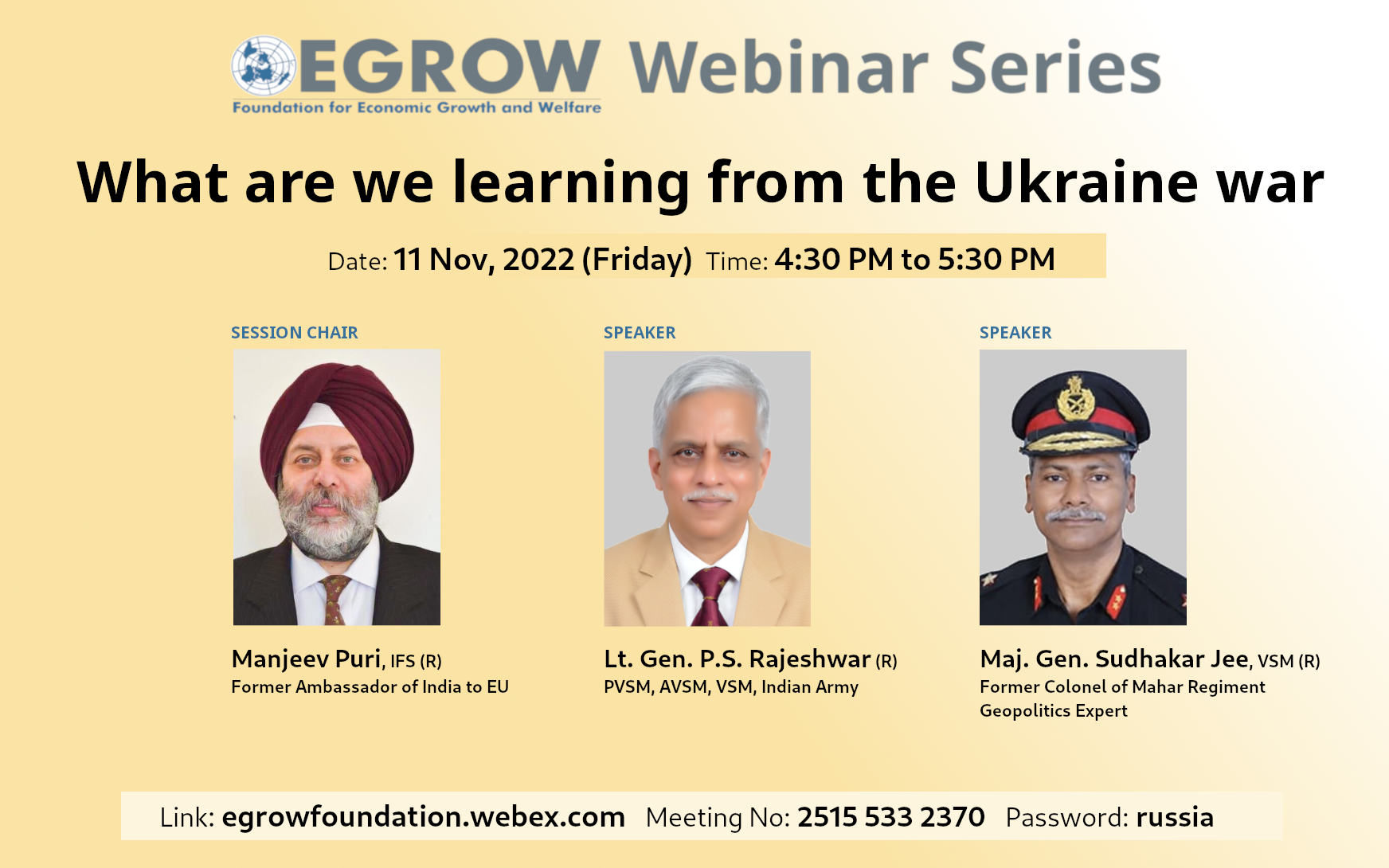 Meeting No: 2515 533 2370
Password: russia
---
About the Speaker
Manjeev Singh Puri
Ambassador Manjeev Singh Puri joined the Indian Foreign Service in 1982 and has served as Ambassador of India to the European Union, Belgium, Luxembourg and Nepal. Earlier he had served as Ambassador/Deputy Permanent Representative of India to the UN during the time that India was on the Security Council. He retired on 31 December 2019 in the rank of Secretary, Government of India.
Ambassador Puri has also headed the division in the Ministry of External Affairs dealing with UN issues on the social and economic side and been involved as a lead member of the Indian delegation at numerous global negotiations on climate change, sustainable development, migration, human rights and UN reforms. In addition, he has served twice in Germany (in Bonn and Berlin), in Cape Town, Muscat, Bangkok and Caracas.
Major areas of his experience relate to multilateralism (UN), Europe and Nepal. His professional focus has been on issues relating to the environment, climate change and sustainable development. He was a lead negotiator for India at the UN on issues relating to the post 2015 development agenda, Sustainable Development Goals and at the UN Conference on Sustainable Development held in Rio de Janeiro, Brazil in June 2012. He was a key member of India's delegation at various Climate Change negotiations, including the Conference of Parties of the UNFCCC in Copenhagen in December 2009 and before that at Montreal, Bali, Bonn and Poznan. Furthermore, he was involved with India's participation in the G8-G5 Summits from 2005 and was the point-person for the Major Economies Forum.
Ambassador Puri has a Master's degree in Management and did his BA (Honours) in Economics from St. Stephen's College, Delhi. He is presently Distinguished Fellow at The Energy and Resources Institute (TERI) and a Distinguished Visiting Fellow with the Ananta Centre.
Lt. Gen. P.S. Rajeshwar
Lieutenant General Podali Shankar Rajeshwar PVSM, AVSM, VSM, ADC was a former General officer in the Indian Army. He last served as the 14th Commander-in-Chief, Andaman and Nicobar Command, from December 2019 to May 2020. He took office on 1 December 2019 when Vice Admiral Bimal Verma retired.[2][3][4] He superannuated on 31 May 2020, handing over command to Lieutenant General Manoj Pande. Earlier, he had served as the 12th Chief of Integrated Defence Staff, from November 2018 to November 2019.
Rajeshwar is an alumnus of Indian Military Academy, Dehradun and National Defence College, Delhi. He also holds a master's degree in national security administration from National Defense College, Philippines.
Rajeshwar was commissioned into the Indian army's Regiment of Artillery in December 1980. He has various operational experiences in high altitude areas, counter-insurgency areas in the North East, and counter-terrorist operations in Jammu and Kashmir. He has held commands of an artillery regiment during Operation Parakram, an infantry brigade at line of control, General-Officer-Commanding XII Corps, Director General of Perspective Planning at the Integrated Headquarters and GOC of Romeo Force in Jammu and Kashmir. He has also served in various United Nations Peacekeeping operations to Rwanda and Mozambique.
Rajeshwar served as 12th Chief of Integrated Defence Staff to the Chairman of the Chiefs of Staff Committee (CISC) of the Indian Armed Forces. He assumed the office on 1 November 2018 when Lieutenant General Satish Dua retired, and served in the same capacity till 30 November 2019 when Vice Admiral R. Hari Kumar took over.
During 38 years of his career, he has been awarded Ati Vishisht Seva Medal in January 2018 and Vishisht Seva Medal in January 2016 for his service.
Maj. Gen. Sudhakar Jee
Major General Sudhakar Jee, Vishisht Seva Medal is an alumnus of Sainik School, Bhubaneshwar and National Defence Academy, Khadakwasla. He was commissioned into The Mahar Regiment of the Indian Army in June 1983 and has vast experience in operations across a wide spectrum of conflict and terrain profiles within India and abroad. The General Officer is presently holding the appointment of Deputy Commandant, Army War College, Mhow where the present and future leaders of the Indian Armed Forces and Friendly Foreign Countries are trained in Strategy and the Art of Warfare. He was elected as Colonel of the Mahar Regiment and has been holding the appointment since 01 Sep 2017.
Major General Sudhakar Jee gave an institute lecture on the 25th of February. Watch Out! decided to interview him to know more about his way of life and gain a better view of his opinions about the nation's security and the role we're supposed to play within it.
---
Certificate of Participants