Press Note: Conference on Bhartiya Model of Inclusive Development & Growth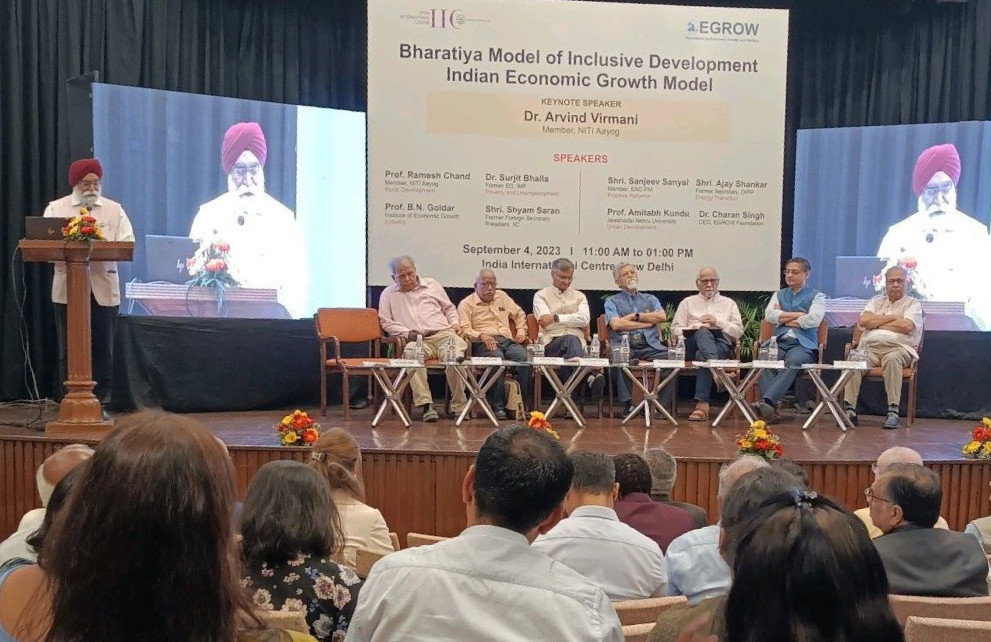 The conference was organized in collaboration with the India International Centre (IIC), New Delhi on September 4, 2023. The keynote address was delivered by Dr. Arvind Virmani, Member, NITI Aayog. Prof. Ramesh Chand, Member, NITI shared his thoughts on rural development and agriculture, while Shri Sanjeev Sanyal, Member, PM – Economic Advisory Council discussed process reforms. Other scholars who spoke and the topic covered include; Dr. Surjit Bhalla – poverty and unemployment; Mr. Ajay Shakar – energy transition; Prof. B. N Goldar - industry; Prof. Amitabh Kundu – urban development and Prof. Charan Singh financial sector. The conference was attended by Hon'ble Ambassadors of various countries, Government secretaries, economists, academicians, media persons and research scholars.
Dr. Arvind Virmani emphasised on the unique model that India follows, which emphasises on Indic Market Economy, Antodaya & Empowerment, and Pragmatism. He cited examples of rapid improvement in various indicators of multi-dimensional poverty in recent years as a result of government policy of taking everyone along. The recent reforms, structural and otherwise, taken by the government to enhance transparency and efficiency, reflected in higher economic growth, even during challenging times.
Prof. Goldar said that the manufacturing sector is rising at 8.0 percent per year, above India's GDP growth rate. The rapid pace of manufacturing in the face of critical conditions make India's performance outstanding compared to other countries. This industrial growth was accomplished because of the process of formalisation, mainly attributable to millions of households coming out of poverty, thanks to government policies like MNREGA.
Prof. Ramesh Chand emphasised the need for reforms in the agriculture sector which is the backbone of Indian economy and which has been contributing significantly in production and employment generation. In development strategy, he emphasised the need of more importance on the rural sector.
Dr. Surjit Bhalla emphasised on the measurement issues in poverty estimates. His research shows that India has been able to move 13.5 crore people out of poverty in recent years through its policies which focus on welfarism, especially the free food program. On employment, he mentioned that the youth unemployment may be high, the ratio is moderate for the age group of 30-64 years.
Mr. Sanjeev Sanyal emphasized the need for underlying process reforms that improve the efficiency of any given framework. The accumulative supply side impact of process reforms can be very large. The goal is to trigger research in this important segment of reforms which can even strengthen the implementation of structural reforms. Mr. Ajay Shankar emphasised that the country has developed substantially in providing universal access to clean energy and moving towards green energy. The pillars for moving to net-zero carbonisation are already in place in India, he emphasised.
Prof. Amitabh Kundu shared wisdom from the Artha Niti of Chanakya which recommended restricting the size of existing cities and creating new townships through low taxes and other incentives. The selective inclusivity helped in attracting talent and encouraging innovation in the cities.
Dr. Charan Singh mentioned about the Government's pragmatic approach in dealing with stressed assets and providing support in terms of recapitalisation which resulted in NPAs declining to very low levels compared with other countries. In addition, the quality of fiscal discipline was maintained in terms of higher allocation to capital expenditure. The welfare approach of the government policy was apparent in financial inclusion. The use of technology and digital payment has led to 10-fold increase in the volume and value of transactions in the last three years. This technological leap was facilitated by financial inclusion.