Bharatiya Model of Inclusive Development - Indian Economic Growth Model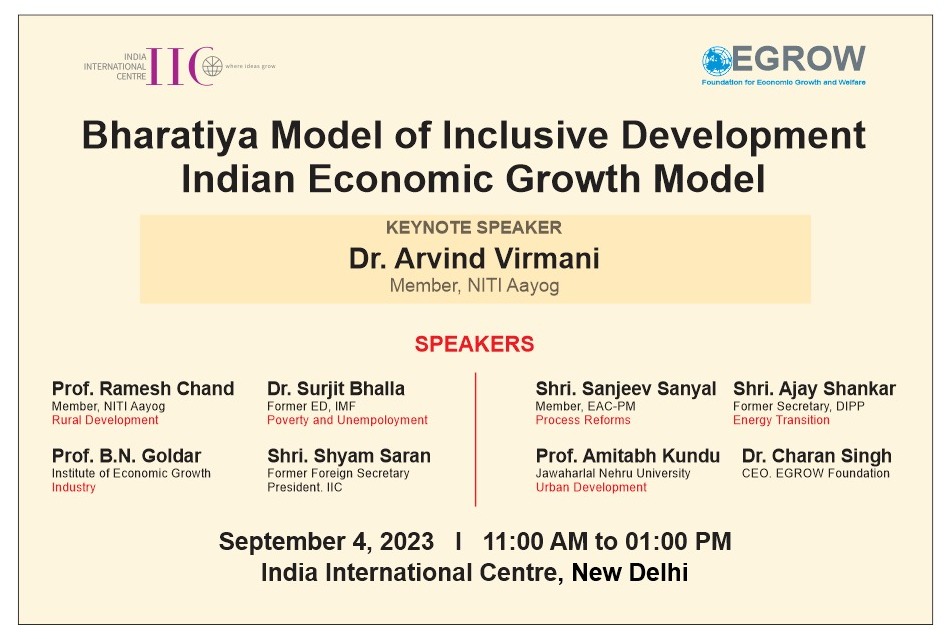 EGROW Foundation in collaboration with IIC is organizing a Conference on Indian Growth Model or Bharatiya Model of Inclusive Development for Monday, September 4, 2023 from 1100 - 1300 hours, at IIC, Lodhi Road, New Delhi. The audience includes, Ambassadors and diplomats from various countries, policy-makers, academicians, and research scholars.
The keynote address will be delivered by Dr. Arvind Virmani, Member, NITI Aayog. In addition, Prof. Ramesh Chand, Member, NITI will be sharing his thoughts on rural development & agriculture, while Shri. Sanjeev Sanyal, Member, EAC-PM will discuss process reforms. Other speakers include Dr Surjeet Bhalla, Former ED, IMF; Prof. B. N Goldar, IEG; Prof. Amitabh Kundu, JNU; and Mr. Ajay Shankar, Former Secretary, DIPP, GOI.