Conference on Bhartiya Model of Inclusive Development & Growth held on Sep 4, 2023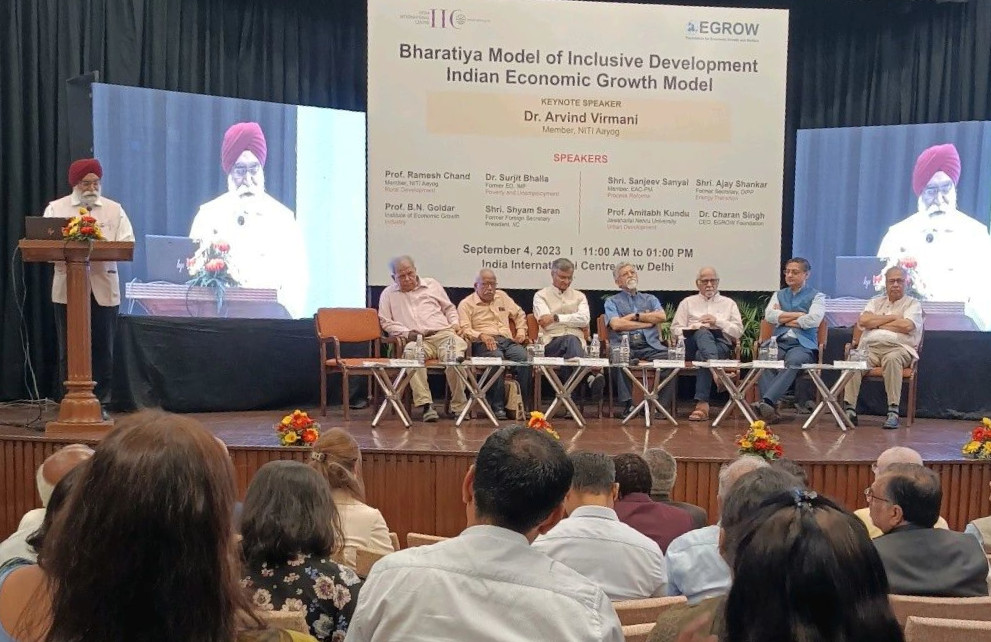 The conference was organized in collaboration with the India International Centre (IIC), New Delhi on September 4, 2023. The keynote address was delivered by Dr. Arvind Virmani, Member, NITI Aayog. Prof. Ramesh Chand, Member, NITI shared his thoughts on rural development and agriculture, while Shri Sanjeev Sanyal, Member, PM – Economic Advisory Council discussed process reforms. Other scholars who spoke and the topic covered include; Dr. Surjit Bhalla – poverty and unemployment; Mr. Ajay Shakar – energy transition; Prof. B. N Goldar - industry; Prof. Amitabh Kundu – urban development and Prof. Charan Singh financial sector. The conference was attended by Hon'ble Ambassadors of various countries, Government secretaries, economists, academicians, media persons and research scholars.
Conference Highlights
Indian model of inclusive growth
Distinctiveness of Indian Growth model in comparison to ultra-capitalist and communist-socialist Models.
Equal opportunity for all citizens, followed by Viksit Bharat goals by 2050.
Rural Development and Agriculture
Need of employment generation in rural areas.
Process Reforms
Importance of process reforms in comparison to structural reforms.
Poverty and Unemployment
Definitions and measurements matter in estimating poverty levels.
Unemployment is low between the age group of 30-64 years, in spite of high youth unemployment.
Energy Transition
India is successfully advancing towards achieving net-zero.
Industry
Rapid growth of manufacturing sector in India, even under adverse conditions.
Urban Development
Positive role of the Government in inclusive urban development.
Indian Financial Sector
Financial inclusion has benefitted females, and rural and semi-urban centres.