Banking Perspective in ASSOCHAM National Conference on Insolvency & Bankruptcy Code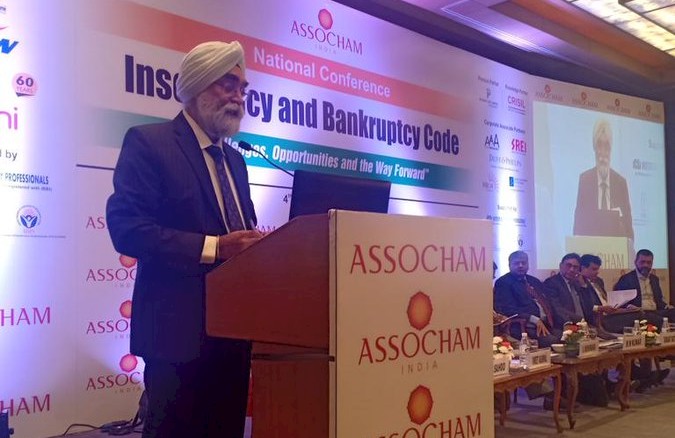 India has a 5000 year old civilization of which once we accounted for 33 per cent of world output. We were the richest nation on the planet for few thousand years.
To be so successful, Labour and Capital have to be optimally utilized.
We need matching capital for young demographics that we already have.
In a young Country like ours, where nearly 80 crore people are less than 36 years, it is important to provide financial resources to the youth.
In economic history of any country, in initial stages, friends, family and money lenders dominate financing industries and then banking industry takes over. In final stages, stock markets play a more prominent role in financing industry.
The banks don't 'mint' money but mainly collect deposits to lend to industry and business. Banks are expected to manage risk and build trust with customers. The Bank deposits only grow when trust is strong. If money lent or credit, does not return back to bank, trust is eroded. Moreover, Once NPAs increase, resources can't be lent for productive purposes.
Bankers perspective of IBC is positive note as it has sensitised the industry and bankers about the issue. The stigma of default is so very apparent.
Historically, it was nightmare for the bankers to recover outstanding sticky loans. Earlier with rising NPAs, DRT were established. DRTs had no teeth and no time -line, so recovery was low and had long litigation.
Restructuring/ Rescheduling was common and banks would take 15 years to 20 years to recover any loan.
Then, time period of recovery was 4-5 years and very uncertain. In contrast, recovery period in U.K and USA was about a year.
In this context IBC is very useful since in the last two years, it has resulted in 79 resolutions and 302 liquidations.
Success of IBC is very useful for Bankers.
Concerns
Time taken - Studies done by few agencies show that in some cases decision is taken in 270 days, but in other cases, is prolonged to 340 days on average in Sep 2018 and to 354 days in Dec 2018.
Delaying tactics has been noticed in recent times.
Change of Management from open markets - if not, quickly done, then valuation suffers.
Haircuts in recent times, according to various reports, is nearly 50 per cent.
Setting up of more NCLTs would be helpful for the banks.
Also, the ecosystem in the country would improve if implementation of the Benami Act is rigorously pursued. It is interesting that in our country, Business is bankrupt but not Businessman.
Finally, I think in a bigger picture, Banking is a reflection of the society. It is difficult to have an island of Honesty, if in general, honesty is not practised generally. I am suggesting the role of CAs, auditors, Rating Agencies and others related to business need to be evaluated.