CMEC and its Strategic Implications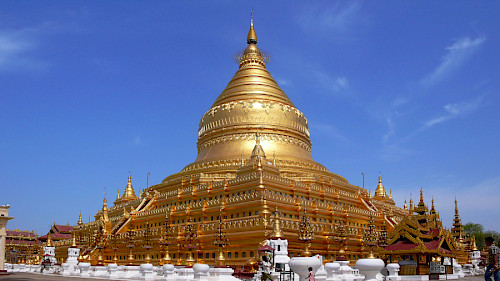 Abstract- The recent deal signed between China and Myanmar on establishing China-Myanmar Economic Corridor (CMEC) has many more strategic implications than economic. India has to closely watch the recent phenomenon of establishment of 'Corridors' in its neighbourhood replacing the decade old 'string of pearls' policy. Including Myanmar in SAARC could be one way to correct the strategic imbalance being created by Chinese presence in India's neighbourhood.
Historically China - Myanmar ties have been more polemical and less cordial. However, after the full takeover of power by the military regime in 1990, and isolation of Myanmar due to sanctions, China came to its rescue by providing succor to the dwindling economy and also equipped its military with much needed hardware. In the ensuing two decades the Chinese government had infused almost $ 20 bn in the form of infrastructural projects as well as quarantined the military regime from additional wrath of sanctions at the UN. China on a couple of occasions vetoed the introduction of sanctions bill against Myanmar's military regime, which continued its policy of open oppression of pro-democracy supporters. This unabated support to Myanmar's military regime continued for almost two decades while the rest of the world watched Myanmar becoming almost a colony of China. It was only after the 2010 elections and the open policies of the then elected president General Thein Sein that Myanmar began to take steps of easing its tyranny against the protesters and the press. Soon the sanctions by US, Japan and EU began to lift and some fresh aid began to flow from countries other than China. This period also saw some resurrection of the anti- Chinese sentiments among the local populace which forced the government to stop the work on $4.3 bn Myitsone project by a Chinese company due to environmental reasons. However, China had earlier bagged the Kyaukphyu – Kunming Oil and Gas pipeline project which would provide the much needed energy inflow to the energy-starved Yunnan province and help Chinese oil tankers to pump oil to Kyaukphyu and thus avoid the Malacca strait to reach the Chinese mainland. These two pipelines were commissioned in 2013. The Gas pipeline has a pumping capacity of 12 billion cubic meters and that of the Oil pipeline is 22 million tonnes of crude oil per year. Just by allowing the transit , Myanmar is going to have multifarious benefits. The annual transmission of 22 million tons of crude oil through the oil pipeline will bring $ 22 million as well as well as $ 13.6 million in transit fees . Exporting 12 billion Cubic meters of Gas will bring in $1.5 billion. This means a lot to a struggling economy of the nation. Myanmar also gets rights to use 2 billion cubic meters of natural gas for its domestic use. This is likely to be used by major cities along the pipeline to supply energy to the inland regions, boosting its economy.. Over the next 30 years Myanmar is set to earn a whopping $ 30 billion from this project . Undoubtedly it is a win-win situation for both the countries; China for strategic and Myanmar for economic reasons.
2015 saw the first free elections in Myanmar in which international media and observers were allowed . It resulted in a landslide victory for Aung San Suu Kyi (ASSK) led National League for Democracy (NLD) which formed the government in March 2016. However, because of a controversial clause of the newly formed constitution inserted by the previous military regime ASSK could not take the much deserved office of the country's President and instead took the role of State Counsellor which is akin to being a Prime Minister or Head of the Government. The new government of Myanmar now needed immediate aid and support to bring its economy back on the road. The first two countries who were visited by the head of state of Myanmar were China and India.
Myanmar shares long land borders with both Asian giants - India and China. India's look East Policy and Act East Policy were primarily focused on not only giving a fillip to the trade with Myanmar but also an endeavour to reach out to other ASEAN countries through a trade route via Myanmar. The visit of the Indian PM to Myanmar in September 2017 and assurance of support to the new government gave a shot in the arm to the relations. However, tardy progress on the projects like Kaladan Multimodal Transit Transport Project and India-Myanmar-Thailand Trilateral highway project have considerably delayed India's footprints in the region. Regular visits of high dignitaries have resulted in signings of many deals to increase the overall trade. Whereas India refused to be part of the Controversial conference of BRI of China in September 2017, Myanmar was very much present and signed the agreement. As a result of the MOUs signed in BRI, in February 2018 negotiations for CMEC started in Kunming which was attended by Myanmar's Minister for Planning and Finance U Kyaw Win and Mr Ning Jizhe, vice chairperson of China's National Development and Reform Commission. Kyaw Win was accompanied with a delegation of 56 business people from Myanmar Federation of Chambers of Commerce and Industry. The meeting discussed a draft Memorandum of Understanding for the China-Myanmar Economic Corridor (CMEC), a wide-reaching initiative that was formally announced by China's foreign minister Wang Yi six months later in September 2018. CMEC would encompass two things. First, a physical corridor that would connect China's landlocked Yunnan province to Kyaukphyu via Mandalay and Yangon, with new roads and a high-speed railway network. Second, a conceptual corridor which would entail a greater economic integration through initiatives such as establishing industrial zones, grant of trade quotas and tax breaks. CMEC will also encompass cooperation in areas not directly connected to the economy, such as disaster mitigation and public health. Overall, The CMEC agreement is likely to see billions of dollars of investment in Myanmar from private and state-owned Chinese firms under the One Belt, One Road initiative. The details of the MOU were kept a well guarded secret and came to be known to the press only in September this year when Myanmar and China inked a 15 point memorandum of understanding (MoU) agreeing to establish the China-Myanmar Economic Corridor (CMEC) in Beijing. The agreement was signed by Myanmar's Minister of Planning and Finance U Soe Win and He Lifeng, chairman of the National Development and Reform Commission (NDRC). The NDRC is China's top economic planning agency and in Myanmar it aims to construct basic infrastructure across key economic centers. This 1700 kilometer corridor will connect Kunming to the major economic centres of Myanmar, namely Mandalay, then Yangon, and terminate at Kyaukphyu SEZ. As a result of the CMEC agreements on 09 November 2018 an agreement for Development of a deep Sea Port at Kyaukphu was signed between Chinese State owned conglomerate Citic Group and Kyaukphu ESZ Managemnt Committee. This will be a $1.3 bn investment which will be 70% funded by China and 30% by Myanmar. It's a known fact that Myanmar toned down the earlier estimate of $7.5 bn projected cost by the Chinese consortium to $1.3 bn . The Kyaukpyu port is seen as an important part of China's ambitious Belt and Road initiative, aimed at expanding trade links not only with Myanmar but across the world. While Beijing says Belt and Road is mutually beneficial for it and its partners, questions have been raised about countries taking on excessive debt to build projects.
The initial $7.5bn price tag on the Kyaukpyu deepwater port, on the western tip of Myanmar's conflict-torn Rakhine state, set off alarm bells due to reports of troubled Chinese-backed projects in Sri Lanka and Pakistan, but toning down of the cost allayed those fears. It seems that the Chinese 'debt-trap' projects have made some nations vary of taking high funding from China.
Strategic Implications of CMEC
The agreements on CMEC comes within just two years of signing of China Pakistan Economic Corridor( CPEC) and also reports of large scale Chinese investment in infrastructure projects in Nepal. From the 2005 vintage 'string of pearls' strategy, 2018 is seeing a strategy of 'concurrent corridors' by China on India's east, west and north which is raison d' etre for India's concern. While India's vehement objection to CPEC is because it passes through the POK region , the cause of worry in case of the CMEC is that it is juxtaposed to India's north eastern border with Myanmar where India has been able to successfully quell the four decade old insurgency.
Secondly, KyaukPhyu port is strategically located on the western border of Myanmar on the Bay of Bengal. When completed China will surely have its presence in it and which will give it a close maritime peep to India's key sphere of influence, the Bay of Bengal and the Indian Ocean. More worrisome is the fact that this Myanmar port will help China position itself precariously close to India Submarine base near Vishakhapatnam where India is building its first Nuclear Submarine INS Arihant. When the proposed Kyaukphyu port materialises, it will be the third Chinese-built port in India's immediate vicinity after Gwadar in Pakistan and Hambantota in Sri Lanka. China is also helping Bangladesh build a new port in Chittagong. Apart from the development of ports the CMEC includes development of many economic zones along the road and rail corridor.
India and Myanmar have not only shared historical ties but also maintained a very consistent diplomatic and trade relations. India needs to focus on the how to stabilize the 'strategic imbalance' arising out of CMEC initiatives in the region. One important factor is investment. Between 2010 and 2018 India's investment in Myanmar stood at meagre $ 1 bn. Also the projects which have already commenced are running much behind schedule. It is time that these projects are given a fresh impetus. Second, use soft power to help this nascent democracy to mature and become stable. Towards this, probably it is time for India to include Myanmar in SAARC. In May 2008 Myanmar had formally requested to be included in SAARC which did not materialize which could be because at that time it was ruled by military junta who had faced international wrath for suppressing democratic forces and imprisoning its pro-democracy leader and Nobel laureate Aung San Suu Kyi. Subsequently, Myanmar was given a status of observer in SAARC along with 8 other nations which include China, US and EU. Geographically Myanmar is on the boundary of South and South-east Asia and historically and culturally it shares a lot of commonalities with the Indian subcontinent in general and north east India in particular. A lot of positive changes have taken place since the restoration of complete democracy and a newly elected civilian government since 2016 and hence the time is now ripe and opportune to take Myanmar into the SAARC folds which would prove to be a win-win situation for both at this stage. Inclusion of Myanmar in SAARC will give the newly elected civilian government much required fillip in enhancing ties towards its west and also give it a pivot to counter balance the growing dependence on China.
Dr Mohinder Pal Singh is Director with EGROW Foundation. Views expressed in the article are personal.